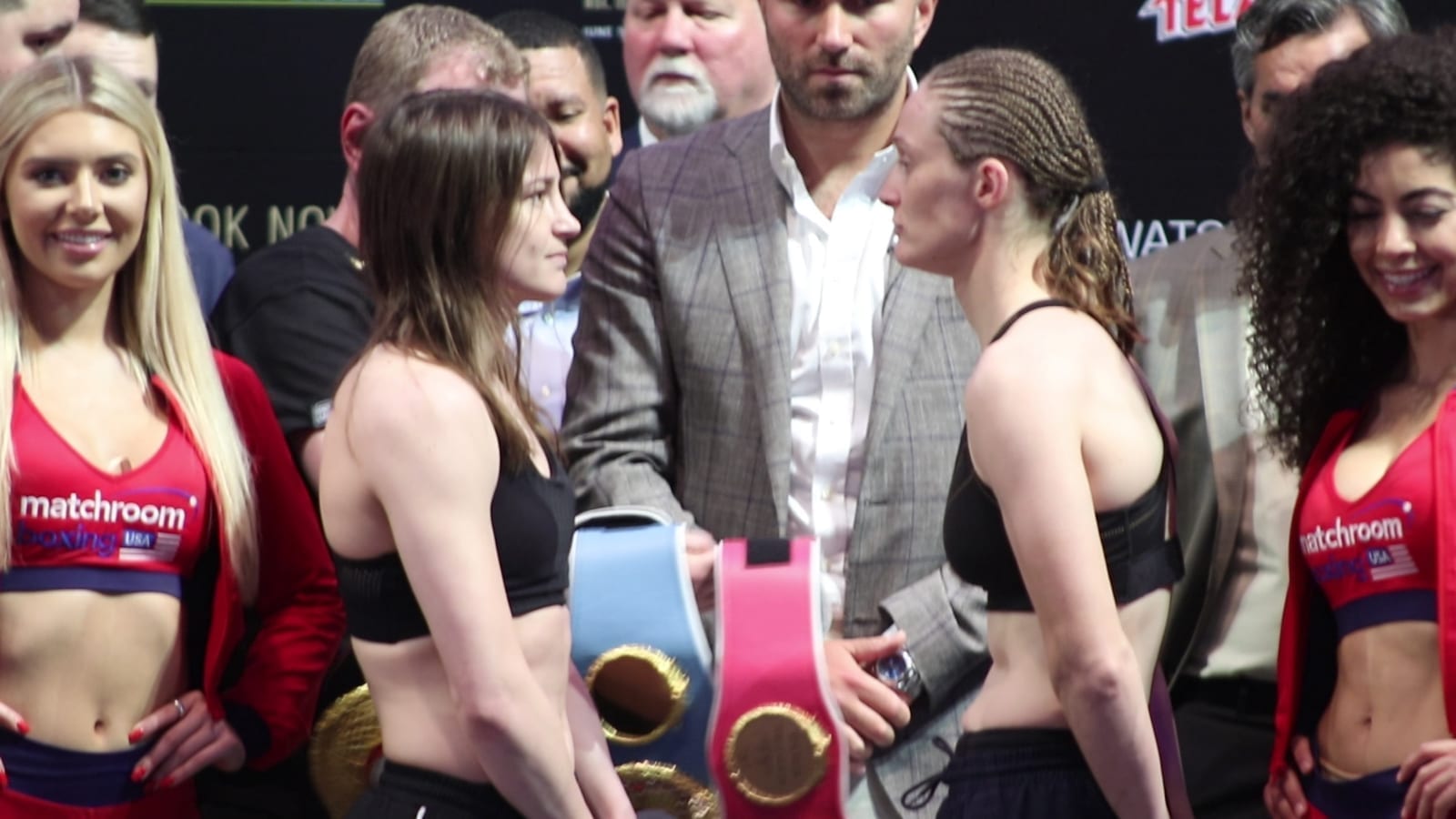 Delfine Persoon says that she intends to lodge a formal complaint against the result of her razor-thin defeat to Ireland's Katie Taylor in Madison Square Garden on Saturday night.
The Belgian came up short on the scorecards after ten rounds of intense action after judges scored the fight 95-95, 96-94, 96-94 in Taylor's favour as she made good on her long-held ambition to unify all four world titles in the lightweight frame — her stated goal since turning professional almost three years ago.
However, Persoon remains is a state of discontent following the fight. Several ringside analysts and broadcasters scored the bout for the 34-year-old police officer but, crucially, none of the judges followed suit. When Taylor's name was read aloud as the winner, Persoon was obviously aggrieved and immediately left the ring to make her way to the dressing room.
Persoon handed Taylor her toughest contest to date as her Antonio Margarito-like forward pressure coupled with a height and reach advantage flummoxed Taylor on several occasion. The Bray woman's slicker technique was also evident, as was her 'heart' which saw her through a stunning finish to the fight in its final seconds.
Katie Taylor becomes undisputed world champion after brilliant scrap at Madison Square Garden | https://t.co/SOMhD36yiR pic.twitter.com/VPHcScnxDS

— TheMacLife (@Maclifeofficial) June 2, 2019
And Persoon says that the fight isn't over yet.
"Yes we will file a claim," she told Belgian outlet Sudpresse. "Even if it will probably not help anything. We were prevented from writing a beautiful page in the history of boxing. Today everyone has seen and everyone knows that is a shame.
"But who will remember it again in a few years, reading my record where this championship will appear in the column of my defeats? In my eyes it's not a defeat."
Congratulations Ireland's Katie Taylor! What a battle that was from two warrior women.
It has rematch written all over it.
Rematch in Ireland!
Katie's Frazier, Delfine Persoon!
Wow 😮

— Conor McGregor (@TheNotoriousMMA) June 2, 2019
The loss was just her second career defeat in 45 professional contests and her first since a 2010 TKO loss to Zelda Tekin. This one, though, came in by far the biggest outing of her career and she admitted that she was concerned going into the bout that a decision in her favour was a longshot.
"What we will do now is of course make complaint," she said. "But without much hope because the weight of the Belgian boxing does not weigh heavy in the instances. But with my coach we will quietly analyse this fight sequence by sequence, to have all the arguments to present an unassailable file.
"I said before I left for New York that if I did not win by KO the judges would never give me the victory — and that's exactly what happened. I should have finished before the limit. I was very close to getting there in the last round."
A rematch between the two fighters seems inevitable, something Taylor has already said she is open to and one suspects that both fighters would be seeking to dispel and lingering controversy about the result of their first meeting.
"By the way, I wouldn't want to be like her," Persoon added of her opponent. "Winning that way — okay, officially she is the winner, but if I would watch the match again in her case I wouldn't want to go on living like that either. [I would] rather lose it unjustly than win unjustly."
Comments
comments