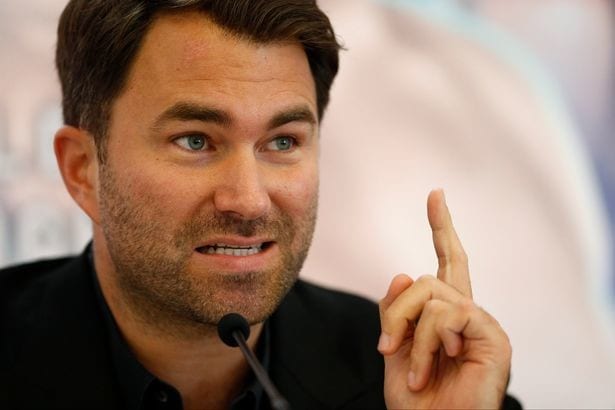 Eddie Hearn says he is still trying his hardest to put together an Anthony Joshua vs. Deontay Wilder fight on April 13 in Wembley Stadium.
And, with Wilder's recent controversial draw against Tyson Fury — a fight most scored in favour of the Gypsy King — the British promoter believes the chips are on his side of the table. Writing a column for the Daily Mail, Hearn revealed he would be traveling to Los Angeles this week on a number of business, but a part of which would be to talk with Wilder's representatives.
"First we need to find out what is happening with a Wilder-Fury rematch and whether the rematch clause we are hearing about is what it seems," Hearn said. "If anything, the way that fight went on Saturday works in our favour in terms of getting Wilder. That has always been the fight we want because he has the last belt.
"Now, let's say he had beat Fury in two rounds – the negotiation will be a lot harder than after a draw where many think he was lucky to keep his WBC title. That goes on our favour. It might also be the case that he fancies his chances in a punch-out with AJ rather than another go at Fury. As far as AJ is concerned, he will fight anyone. He would love Wilder next and he has always wanted Fury.
"I am going out to LA on Tuesday, not entirely on Joshua business but it will be part of it. I spoke to Wilder's people after the fight and we will talk again this week. It is a fight we definitely want and will work hard to make."
Fury's performance on Saturday was the finest of his career, and one that has earned him huge plaudits after a stunning career resurgence. Despite Fury's popularity, Hearn is quick to note he still believes Joshua to be the number one heavyweight in the world.
"People say he isn't the main man in the division anymore," Hearn said. "We disagree – 22 wins, the IBF, WBA and WBO champion and he has wins over Klitschko, Povetkin, Parker and Whyte. We look forward to him demonstrating it again."
Comments
comments