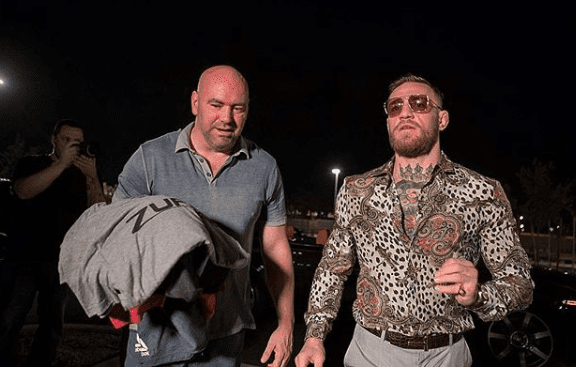 UFC president Dana White has seen a lot in his tenure as the boss of the world's biggest mixed martial arts organisation — but he'll tell you himself, he's never seen anything like Conor McGregor.
In just ten days, McGregor will meet Floyd Mayweather in a boxing ring. It's a contest that's captured the attention of the public in ways few — if any — have done so before. For White, McGregor's foray into boxing almost offers him a representative in the 'other' combat sport of boxing — a sport that traditionally hasn't gotten along with it's younger cousin mixed martial arts.
Indeed, as the fight draws closer, many high profile members of the boxing media have derided the competition as farcical, claiming McGregor will have no chance once he steps through those ropes. According to White, they can say what they want. They'll just have to wait until fight night.
"Here's the reality: boxing has tried to snub this sport for a very long time," White said, speaking to TheMacLife.com. "The people who think is going to be this one-sided whatever with Floyd Mayweather, don't know Conor McGregor yet. The beautiful thing about this thing is that it's the biggest combat sport [event] ever in the history of combat sports — now you're going to meet Conor McGregor, motherfuckers."
While the numbers are of course uncompleted, the fight is already predicted to defeat Floyd Mayweather vs. Manny Pacquiao as the biggest fight of all time. As White mentioned, he believes come August 27, those predictions will be proven correct. In fact, he says, they already have been.
"It already is [trending to be the biggest event ever]," he said. "We've already broke records in a lot of different areas with this fight globally, and yeah it's the biggest combat sport [event] ever. Ever. In the next two weeks it's going to continue to grow bigger, and bigger. By the time the 26 comes, people are going to be busting at the seams to see this fight."
While sparring on Tuesday night didn't feature him, former boxing champion Paulie Malignaggi has become a well circulated name as of late. After leaving McGregor's camp under contraversial circumstances, Malignaggi has gone on to be involved in a number of interviews in which he's been mostly unflattering about the Irishman's punching ability.
In response to those comments, White took two clips of the McGregor/Malignaggi sparring sessions, and uploaded them to his social media. When those clips went viral, the voices who claimed McGregor had no ability in boxing at all, appeared to quieten (if just for a moment).
For White, the one-sided contest proved to him that McGregor had more of a chance than anyone from the boxing world appears willing to grant him.
"I didn't know what to expect," White said. "I stopped doubting this kid a long time ago, so I didn't know what to expect, and then when I saw the way he handled the former WBC and IBF world champion, I was like 'holy shit, this is going to be fun'.
"When he makes this upset — and it'll be the biggest upset in the history of sports — he's going to be the biggest athlete on the planet. It's going to be awesome.
"It's fun, this Conor McGregor ride is a fun ride to be on."
Comments
comments