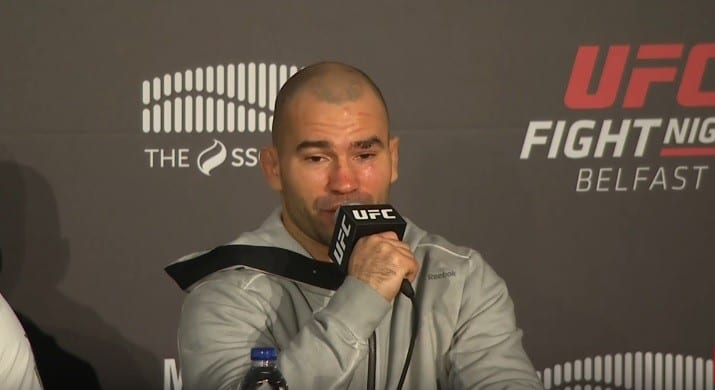 Could we see SBG fighters vs. world class boxers becoming a trend? Well, a mister Artem Lobov would be up for it — providing Paulie Malignaggi was stood on the other side of the ring
Malignaggi has become something of a firm fixture in the lead up to Conor McGregor vs. Floyd Mayweather, as he continues to be involved in interviews to discuss his brief term in the McGregor camp and his pair of sparring sessions with the Irishman.
Yesterday speaking on The MMA Hour, Malignaggi expanded on his previous rants on the matter, beginning to insult McGregor's teammates Lobov and Tiernan Bradley. According to Lobov, however, that's only because Malignaggi can't handle criticism.
"Let's be honest, it's very simple, there were three sparring partners — me, Tiernan [Bradley] and Dashon [Johnson]," Lobov said, speaking with MMAFighting.com. "I had an interview with Ariel Helwani where I called Paulie a diva. Tiernan had another interview where he gave him a little bit of stick too. Guess what? Paulie decides to talk bad about me and Tiernan and say nothing about Dashon.
"Why? Dashon is the only that didn't give interviews about him or say anything about the incident. It's clearly emotional from him. He's trying to get back at me and Tiernan, but it's no big deal to me. If he wants to fight, I'm down to fight. I'll box the ears off him, no problem."
As for Lobov's diva comments, you won't find him retracted that particular statement despite Malignaggi (and other) backlash. In fact, Lobov stands by his claim.
"The reason why I called him a diva, and a lot of people have given me criticism over that, the reason I said that is because I'm not telling lies. I always stick to the facts," Lobov said. "Yes, it might have sounded harsh and he probably got a bit of stick for it, but you can't deny that I'm telling the truth. He was given a wage that he was happy with. He was given a car, he was put in a house and he was provided food, three meals a day actually, from a very nice restaurant. What else can you ask for?"
Comments
comments