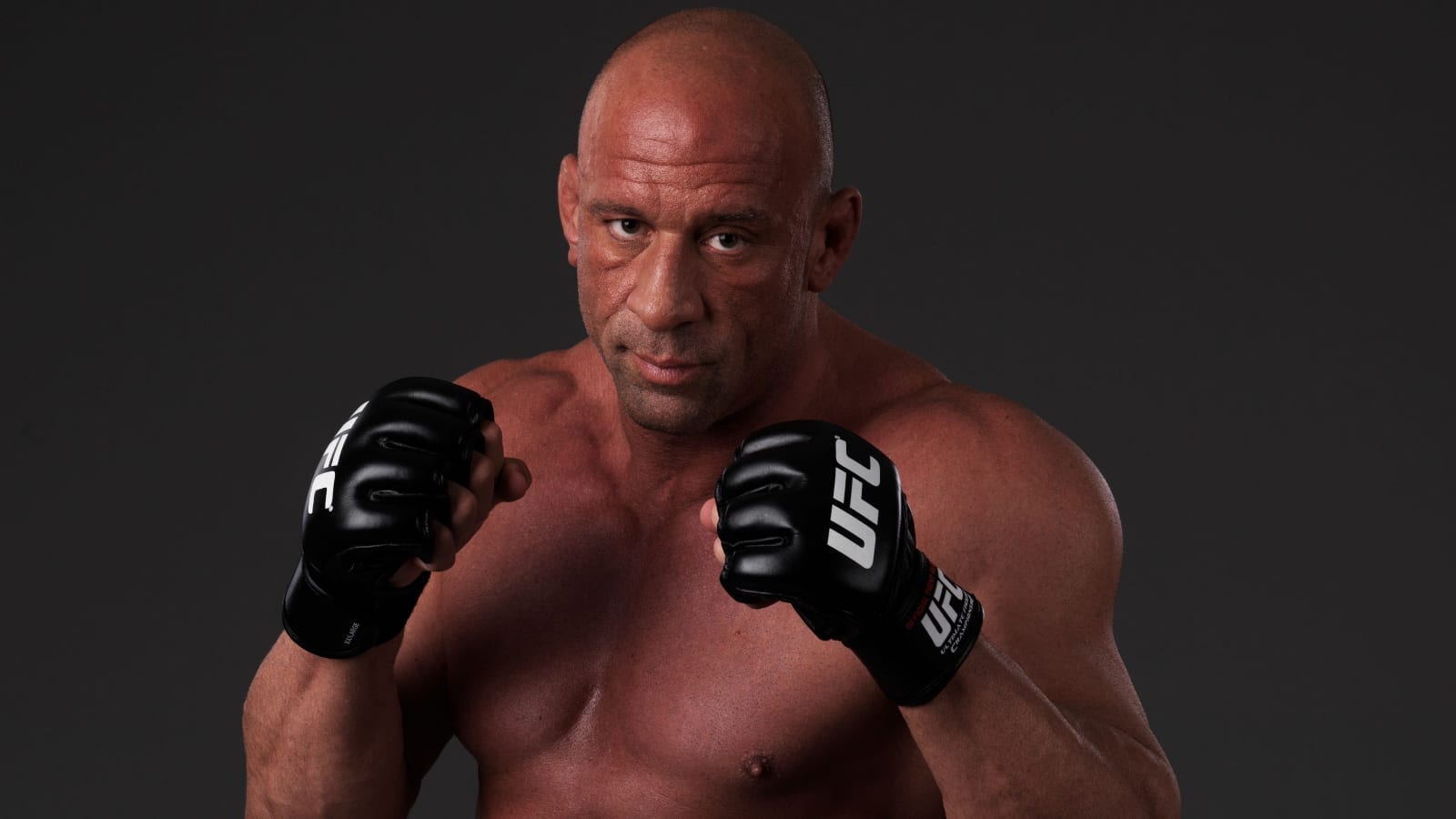 It was never really much of a secret as to what you were going to get from a Mark Coleman fight.
The NCAA Division 1 champion and 1992 Olympian was about as powerful as a wrestler had ever been in the UFC when he made his octagon debut on July 12 1996, where he defeated three men in one night to win the UFC 10 tournament. Coleman repeated his achievement to win the UFC 11 tournament just nine weeks later. The following February, he became the first ever UFC heavyweight champion by submitting Dan Severn in Dothan, Alabama, completing a unique set of accomplishments within an almost ludicrously short period of time.
Today he is enshrined in the UFC Hall of Fame.
These victories — every one of them — were all borne from countless hours spent on the wrestling mats since his childhood, though now adapted with the necessary savagery on the ground afforded by the ruleset at the time. Simply put: Coleman wanted to double-leg you and beat the shit out of you on the ground. It became such an effectively ruthless strategy that the term we recognise it as today — Ground 'n' Pound — was created directly to describe his up, close and very personal style of assault.
It is no surprise, then, that Mark Coleman says he was enthralled when he watched Artem Lobov's bareknuckle boxing debut against Jason Knight in April.
"I was on the edge of my fucking seat," Coleman said to John Balfe of The Mac Life.  "It gave me the same feeling as when I watched the first UFC. I was just so excited, so emotional and so wishing that I could be in there fighting one of those two guys. I just loved it. I wish it was 20 years earlier."
Admittedly, this sport isn't for everyone. Its aesthetics, its furious pace and perceived disregard for the 'gentlemanly' elements of traditional boxing have led some observers to bemoan bareknuckle boxing as some sort of twisted offshoot of boxing and mixed martial arts. While some may hold this opinion, Coleman certainly doesn't.
"It was back and forth, blood everywhere," Coleman says of the Lobov vs. Knight fight. "Well, I love blood everywhere! I'm a big fan of blood everywhere. I'm a big fan of bareknuckle boxing. It reminds me of the early UFC.
"I was a big fan when it first came out but that fight right there, it was the biggest thing going the next day on the internet, on Twitter. Pictures of Artem's face, pictures of Knight's face. Those two guys are just warriors, savages. They proudly showed off their cuts. A lot of people cringed but I didn't because I knew the swelling was going to go down and I knew they were going to have some beautiful tattoos on their face. Stitches to me are tattoos, just like my cauliflower ear. That's my wrestling tattoo, brother.
"The heart from both fighters, both fighters had to suck it up out there. I'm sure neither one of them fighters have ever been in a fight like that. That was new territory that they were out in. It's never happened before, that fight was one of a kind."
The Greatest HAMMER OF ALL TIME!

— Mark Coleman (@Markcolemanmma) April 7, 2019
Hey @RusHammerMMA Great photo! U are a WARRIOR! @PaulMalignaggi not taking u serious. Just watched his video. When you are all healed up, let's go , get ready! Many will be watching, my friend. @bareknucklefc #Hammer #mma #BKB https://t.co/W6qN8JtWW0

— Mark Coleman (@Markcolemanmma) April 19, 2019
On Saturday, the possibility exists to eclipse April's fight. Artem Lobov's second outing inside the Bare Knuckle FC ring comes opposite Paulie Malignaggi in an escalation of a rivalry which began inside the UFC Performance Institute one balmy evening in Las Vegas a couple of summers ago. The story has been repeated endlessly, and there's little need to do so again here, but enough has been said by both parties to escalate a war of words into a Florida fist fight which will be beamed across the globe on pay-per-view.
Malignaggi has done little to endear himself to many mixed martial arts fans, and certainly none to those who follow both Lobov and Conor McGregor, particularly when he spat in Lobov's direction (but actually on BKFC president David Feldman) at a recent media engagement. Coleman says that if someone spat at him at a media engagement, it would take ten men to get him off the culprit.
"I realise that Artem's 145-pounds but I'm 235-pounds. If someone did that to me I'm not responsible for what I do. My mind is in a different world at that point of a fight. I'm going to get that guy and stick to my own game plan as if I was in a cage and know in the back of my mind that I've only got about ten seconds to work because they're coming [to break us up].
"I don't approve of everything he did but Paulie helped sell this fight," Coleman says. "Artem sells the fight by the way his fists work. A lot of people would be terrified to be in something like that."
Whether Malignaggi holds any wariness about stepping in the world of bare knuckle remains unclear but Coleman stands firm on the point that the clinch game is the key to this fight. Chris Leben, for one, has won two fights in the sport by using his clinch game to hold an opponent in place to land shots. One of them was against Coleman's friend, Phil Baroni.
"Paulie Malignaggi is in for something that he's never done before," Coleman says. "This is brand new to him. He has to convince himself that he's confident, we'll find out if he really is when the fight starts. This is not boxing; this is boxing and clinching. That is the key to this fight to me. Artem knows how to clinch and I don't know if Paulie is going to be able to deal with the clinch part of the game."
Coleman's seventh professional mixed martial arts bout came against Maurice Smith, around five months after his victory against Severn in which he claimed the inaugural UFC heavyweight title. By his own admission Coleman says that he took his eye off the ball a little after winning gold and allowed the type of pervasive (and almost always incorrect) thoughts to make him believe that all he had to do was 'show up' to win fights. From bitter experience, Coleman says that he hopes Malignaggi is taking Lobov seriously.
"I got overconfident with Maurice Smith because I just won six fights in a row. My head was head was high but Paulie hasn't fought in a long time, so all he can remember is when he was good and that's a long time ago. He better have been in that gym and he better be focusing a lot already.
"I don't think it matters if he's overconfident or not, I think the outcome is going to happen no matter what. I got my money on Artem but I know damn well in combat sports there's no guarantees but I think the educated fighters are liking Artem in this one. Paulie has done a lot in boxing but I don't see this as being boxing."
Comments
comments