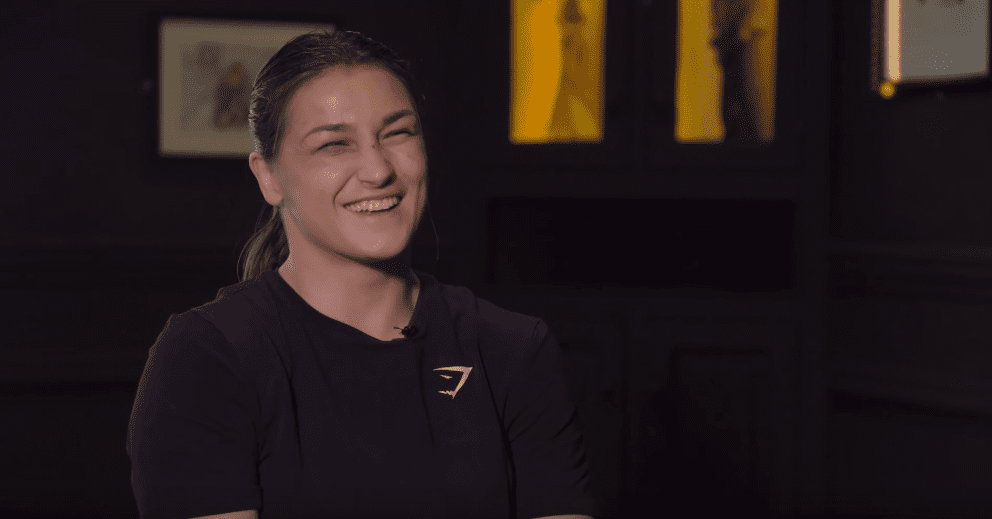 A week ago inside Madison Square Garden, a theatre well-known for its lofty history, Katie Taylor carved out her own achievement in the building's unique, blood and sweat-soaked architecture. 
Taylor, the native of Bray, Co. Wicklow, won a majority decision against the gritty Belgian Delphine Persoon to win the WBC lightweight title to add to a collection which already included the WBA, IBF, and WBO iterations (and then there's The Ring and Lineal titles).
It was a fight worthy of such rarified wares. Through ten rounds neither fighter took a backward step and both remained swinging until the final bell, with Taylor given the judges' nod by majority decision when all was said and done. When the result was recorded to the history books, Taylor says that the victory wasn't just the achievement of a goal but more-so the result of two decades' hard work crammed into one twenty-minute scrap.
"At the time I was relieved and delighted," Taylor said to John Balfe of The Mac Life about the moment the winner was announced. "It was such a close fight but I think it really only hit me when I was around my family the next day and I had the five belts. Like you said, this is years and years of hard work. I started boxing as a ten or eleven year old. All the sacrifices I made, all the highs and lows of training camps; all the good times and the bad times, it was definitely worth it when I'm looking at these five belts now.
'Immensely proud': Bray welcomes Katie Taylor home after title unification in New York | https://t.co/oXhlsjUWNj pic.twitter.com/1Pn9IahWK2

— TheMacLife (@Maclifeofficial) June 8, 2019
"[The fight] was pretty much what I was expecting, really.  I knew that she was strong, I knew that she was awkward. It's a very hard girl to look good against because of that kind of style. I knew it was a fight where I was going to have to dig deep and show a lot of heart. I knew I was going to be in the trenches at some stage of the fight and that is exactly what I prepared for. I'm in the trenches every single day in training.
"I probably stood there and fought with her a bit too much. I do enjoy a tear-up a bit too much and I definitely should be a bit more disciplined when I'm in the ring but I do love a good, exciting fight. I think it was a 'Fight of the Year' contender.
"Ever since I did turn pro less than three years ago it was always my goal to become undisputed champion. This is the absolute pinnacle of the sport. It's such an honour to hold these five belts and the best thing about it is I feel that the best is yet to come. People still haven't seen the best of me yet and that to me is incredible."
To some extent, the Delphine Persoon fight marked the closure of one chapter and the beginning of the next. The title of unified champion is a rare one in boxing — she is the only woman to have ever done it in her weight class. Only six men have ever managed to do it, the last two of which are legendary prizefighters Pernell Whittaker and Roberto Duran. Taylor is now the one with a target affixed to her back, the clear standout in a division which houses some killers. Aside from Persoon, Amanda Serrano — the 36-1-1, SEVEN-weight world champion — is hovering but nonetheless, Taylor says nothing will change for her as she moves forward.
"The mindset is always the same," she explains. "I prepare like no other person. I definitely don't leave any stone unturned going into these fights and I want to perform at the best and be at my best every single night when I get into the ring. It's no different now that I have these five belts.
"I love the challenge, I love being involved in big fights. I want to make history in this sport. When I did turn pro three years ago I didn't really know how this journey was going to go. I didn't know how people were going to perceive women's boxing globally. To see where I am now, that I have a chance to even headline my next fight in New York, we've definitely come a long, long way."
'The two of us are definitely history-makers': Katie Taylor (@KatieTaylor) talks Conor McGregor's (@TheNotoriousMMA) impact on combat sports | https://t.co/7MAcNBigo0 pic.twitter.com/5vDw2g4Tqf

— TheMacLife (@Maclifeofficial) June 6, 2019
Taylor has now packed fourteen professional fights into a two-and-a-half year period in a career which began on the back of one of the most successful amateur records of all time, a legacy built (and continuing to be built) on hard work. Her pursuit of the title of unified champion was pursued almost without erring or even taking a breath, such was the camp-to-camp-to-camp nature of her time in this pros to this point.
But it is now time to exhale, for the time being at least.
"The next fight I think is going to be September/October but it's definitely been a busy few months," Taylor says. "I don't think I've been home properly in the last six months. I had the Rose Volante fight less than three months ago, I was only home for a few days and then straight back into camp. It's definitely been very, very hectic. Sometimes that can catch up on you so I'm definitely going to take a bit of time off and probably slow down a small bit.
And there is work to be done. A second bout with Persoon will come, she says, but her management say that moves have been made to make a bout with Serrano. But the Belgian, aggrieved with the result of last Saturday's fight, will get her shot at redemption.
"The rematch is inevitable," she says. "It was a close fight and I know this is a fight people want to see. This is a mega-fight.
"I definitely feel I will beat her a bit more convincingly next time around."
Comments
comments