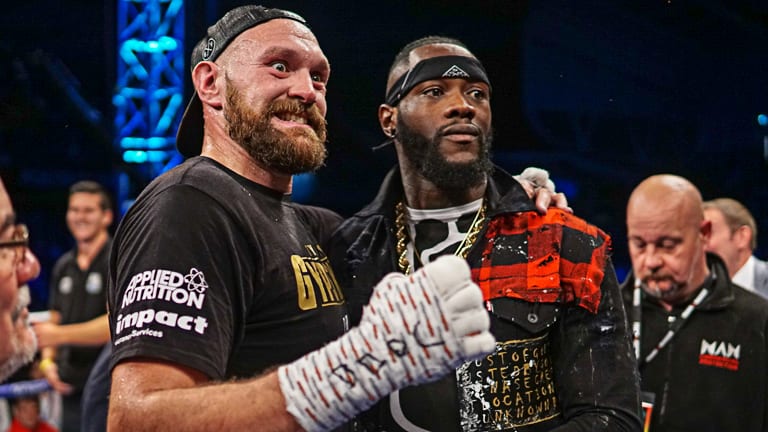 Whichever way you slice it, the heavyweight division in boxing has rarely been as exciting as it is today.
The decade-long era of dominance by the Klitschko brothers was usurped when, first, Tyson Fury outpointed Wladimir in London in November 2015 and then Anthony Joshua emphasised the changing of the guard by knocking out the giant Ukrainian in London in May 2017.
Since then the two British heavyweights, along with America's Deontay Wilder, have stablished themselves as the three premier heavyweights in boxing. All of them undefeated in the professional ranks, Joshua currently holds the WBO, IBF and WBA world titles while Wilder carries the WBC equivalent. Despite stepping away from the sport for a number of years, Fury is still credited with holding the 'lineal' world heavyweight title following his win against Klitschko and draw with Wilder. He subsequently vacated WBA, IBF, WBO and Ring world titles shortly after beating Klitschko.
On Saturday night, Deontay Wilder flummoxed his latest opponent, former American Olympian Dominic Breazeale, winning the fight via vicious first round KO — and it is safe to say that Tyson Fury was impressed, as he paid tribute to his former (and likely future) opponent on social media.
View this post on Instagram

Congrats @bronzebomber but your the second baddest man on the planet behind me.👍🏻
"Hey, this is Tyson Fury AKA The Gypsy King," Fury said. "I'd just like to say well done to Deontay Wilder in knocking out Dominic Breazeale, I got that prediction quite correct. Anyone who wants to go toe-to-toe with Deontay Wilder will have the same fate as Dominic Breazeale and the rest of his 40 other victims.
"Anthony Joshua, you'll get it as well. Same thing will happen to your mush. Dillian Whyte, you'll get it as well. 'The Bronze Bomber' is the most fearsome, most destructive puncher in the heavyweight division — but it's just a pity that he had to lose to 'The Gypsy King'.
"Anyone who stands in front of Deontay Wilder, he will knock them out. Deontay Wilder is the second baddest man on the planet, behind the Gypsy King AKA Tyson Fury, the number one heavyweight in the world. Nobody can beat me. I can't be touched. Boom."
Comments
comments