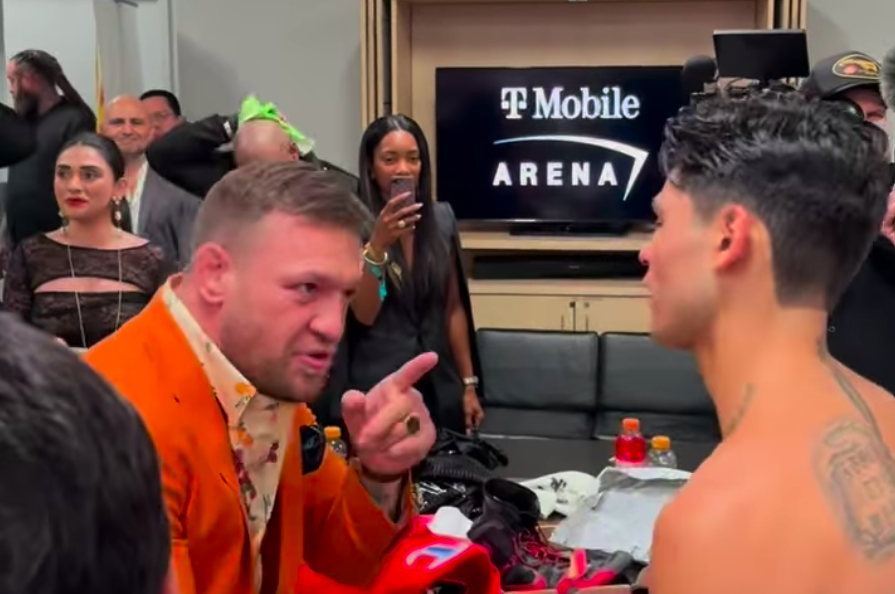 One only needs to look towards boxing's heavyweight division to see the matchmaking problems which have stymied the sport. 
But on Saturday night, two of the brightest undefeated fighters in the lower weights put their undefeated records on the line when Gervonta 'Tank' Davis and Ryan Garcia met in the ring in Las Vegas in what was arguably the biggest blockbuster fight that boxing has presented to fans in quite some time.
In the end it was Davis who claimed the win after Garcia was unable to recover from a venomous seventh-round body shot. But as is sometimes said in sports, 'nothing ventured, nothing gained' — and this was a point that Conor McGregor was keen to make to the 24-year-old Garcia when he visited him in his dressing room soon after the bout's conclusion in the T-Mobile Arena in Las Vegas.
View this post on Instagram
"He's 1-0 on you, you're the two biggest names in the division, I want to see it again," McGregor said, as shown in a video published to Garcia's Instagram page. "I want to see it again now, and I want to see it with no rehydration clause. Seriously. All the respect in the world to you. You're the future, you're the future of this game, and I'm going to watch you all the way."
Garcia appeared to underscore McGregor's advice with a caption on the social media video: "All good he's up on me! I went thru fire for this fight. I'm going to come back stronger!! Rack up a couple more wins to run this back! Hopefully we can do it at 140 no clauses! Great Job to Gervonta great fight and fighter!!!
The loss snapped Garcia's run of 23 consecutive wins in the sport, while the 28-year-old Davis — who previously boxed on the undercard of McGregor's bout with Floyd Mayweather in 2017 — moves to an impressive 29-0, with 27 of this wins coming inside the distance.
Comments
comments