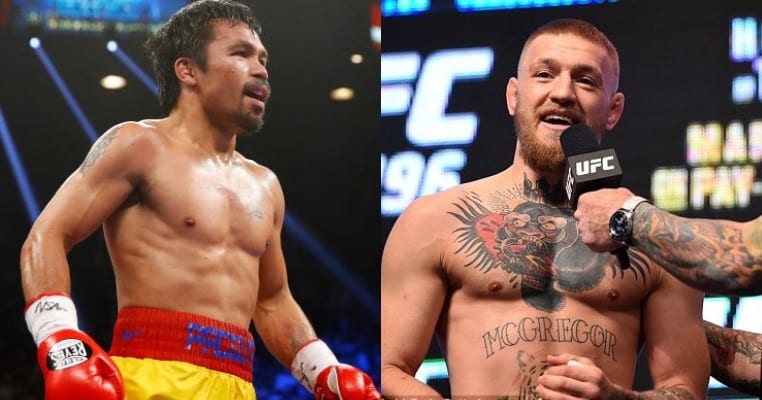 What was once a whisper has grown into something more recently after Conor McGregor and now Manny Pacquiao outlined their interest in what would be a highly-lucrative cross-code showdown later this year.
McGregor, who faces Dustin Poirier on UFC's 'Fight Island' in Abu Dhabi on January 23, has previously outlined his interest in competing in what would be his second professional boxing bout following his 2017 debut against Floyd Mayweather, noting that the fight with southpaw Poirier would be worthwhile preparation in advance of any Pacquiao fight — and the Filipino multiple weight world champion, who shares a management company with McGregor, appears more than up for the challenge.
"They're my options, but right now I want to experience fighting an MMA [fighter]," Pacquiao said via ibtimes.com. "I will also donate a big portion of my income to Filipino Covid-19 victims."
Pacquiao's stance was echoed by his longtime conditioning coach, Justin Fortune, who said: "I think it'll be a massive money fight. The world wants it."
View this post on Instagram
McGregor has indicated his interest in returning to the boxing ring, particularly since he ramped up his training in his childhood boxing club in Crumlin in recent years under the stewardship of Irish boxing icon Phil Sutcliffe, and he has said that the reconnection with his longtime trainers will pay significant dividends when he next sets foot in a boxing ring.
"I definitely believe it's inevitable for 2021," McGregor's manager, Audie Attar of Paradigm Sports Management, said.
"Both fighters want it, that's the key. You can't make something happen or orchestrate it or choreograph it – which is the buzzword of this interview – you can't fake that. If one side wants it and the other doesn't, it's not going to happen. But when both fighters want that fight to happen, why wouldn't it happen? If the fans want to see it – that almost guarantees that it's going to happen, right? As there's enough interest to develop something there.
"The UFC said, 'Alright, let's do that rematch [with Poirier]'. We said, 'OK, well let's do that rematch first then, but then Manny will be the next fight'. And that's what both fighters want. So, that's the plan," Attar said.
"We've been having amazing conversation with stakeholders across the world, including the Middle East. We'll see where it goes. I'd be shocked if it didn't happen in 2021."

Comments
comments