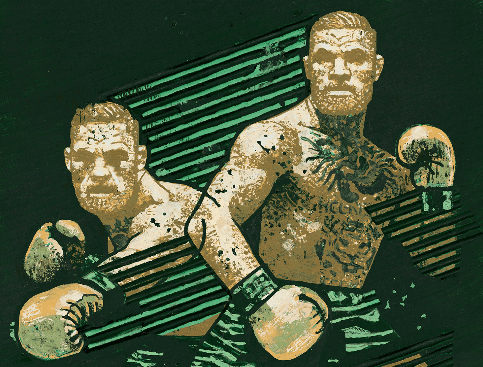 Artwork by Gian Galang.
Tomorrow night in Las Vegas, Nevada — just four years after collecting a cheque for social welfare — Conor McGregor will face Floyd Mayweather in the most watched combat sporting event of all time.
It has been a rise nothing short of meteoric.
Think — bouts against Marcus Brimage and Diego Brandão seem like lifetimes away, and the latter took place just three years ago. To see McGregor on the stage facing off against the biggest name in boxing is stunning. And yet can anyone say it's not been earned.
Plenty point (often in a derisory fashion) at McGregor's talk outside of the cage as the reason the Irishman has gotten the opportunities he has but really, it's inside the Octagon where he's earned his status as the biggest star in MMA.
In McGregor's ten fights in the UFC, nine of them have received a performance bonus (be it knockout of the night, fight of the night or performance of the night). The only one that didn't was McGregor's second promotional contest against Max Holloway, and McGregor had his ACL ripped in the earlier stages of the fight.
Those, combined with the aforementioned Irish wit, propelled McGregor to stardom faster than any of his colleagues.
But other than McGregor himself, could anyone else really have pictured this? Not only is he on stage with Mayweather, a man who is essentially a dynasty in combat sports, but McGregor's easily taking the attention and shining far brighter than the boxer.
A win tomorrow changes everything. McGregor's in a position to make himself a first-of-his-kind athlete, and with the UFC seemingly recognising the place in which their Irish star inhabits, McGregor's rise to the top could end up paling in comparison to what he ends up doing now he's there.
—
Gian Galang's prints, including the one in this article, are available here.
Comments
comments