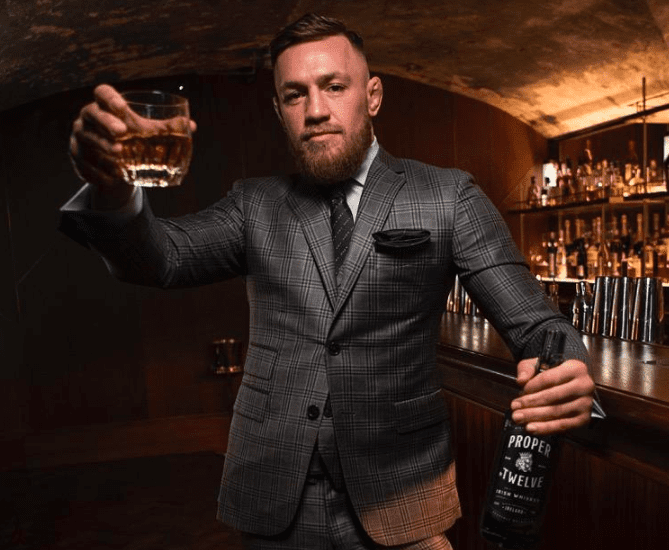 Conor McGregor has highlighted his roots with the name of his new blend of Irish whiskey.
Proper No. Twelve Irish Whiskey, named after the Dublin 12 region of Dublin in which his hometown of Crumlin is located, has been in the works for more than a year but will soon be launched under its new moniker.
McGregor is the founder, chairman and majority owner of Eire Born Spirits and announced the launch of the whiskey in Ireland and the United States on Monday, also stating that further expansion of the brand will continue in 2019.
"For years, McGregor developed the brand under the project name Notorious through which came the foundation of what was to eventually become Proper No. Twelve," read a statement.
"It became a longer and more complicated project than originally expected, so McGregor turned to the world's oldest whiskey distillery [the Old Bushmills Distillery, Co Antrim] with a proven history of quality whiskey making.
"He met David Elder, esteemed master distiller, previously of Guinness, and together they took painstaking measures to bring the whiskey to fruition."
The whiskey, which will cost €45 per bottle, is named as a tribute to the Crumlin area in which McGregor spent most of his youth.
"We created close to one hundred blends and ultimately selected what we knew was the one and only proper whiskey blend," McGregor said. "We took the time to develop an incredible whiskey and I'm excited to share it with the world.
"I come from a place called Crumlin, in Dublin 12. It's a place dear to my heart. It's where I learned how to fight; it made me who I am today. It's a place I'm still very much a part of every single day of my life. So, that's where the name came from.
"It's proper Irish whiskey and twelve is my hometown. Growing up on the streets of Dublin 12, I learned the values of loyalty and hard work. I respect other Irish whiskeys, but I am coming in strong, with passion and with purpose. I am the founder of this company and I am going to give it my all."
McGregor also announced that he would donate $5 from every case sold to charities funding first responders, with a cap set at $1 million.
"First responders all over the world are the unsung heroes who act with courage and answer the call of duty every day for people in need," he said. "I have great respect for these men and women."
Comments
comments