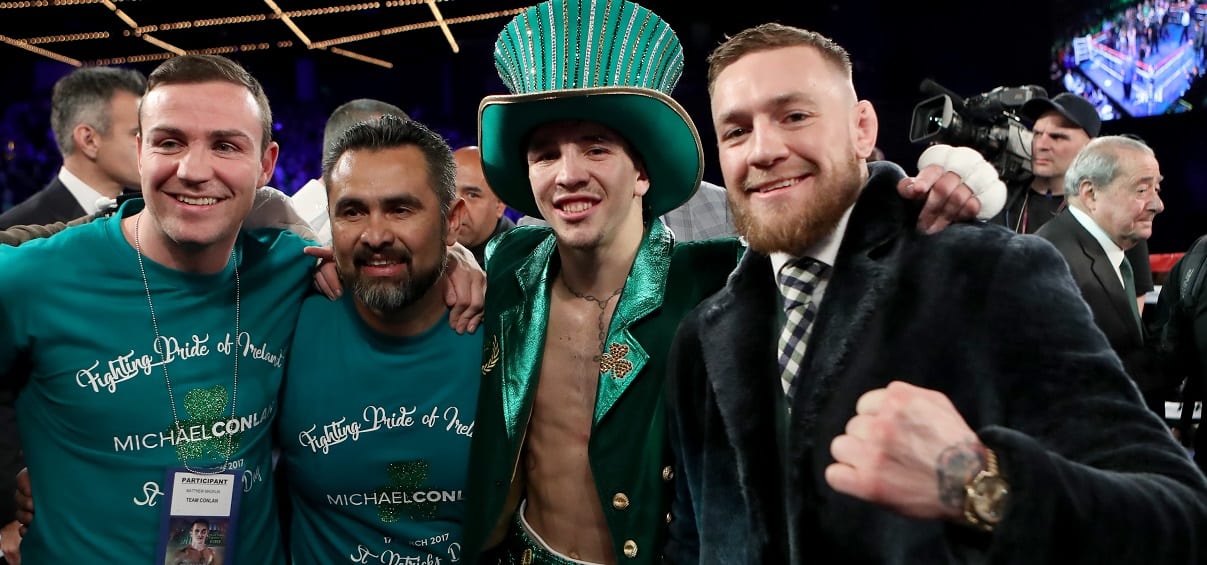 Conor McGregor and Mick Conlan are two names which have been mentioned in the same breath a lot lately.
The two Irishman have made massive strides in the combat sports world over the course of the last year. Conlan, the former world amateur boxing champion, is now 2-0 as a professional after a third round knockout win against Alfredo Chanez last week. The Belfast man is now set for this third pro bout on the undercard of Manny Pacquiao's upcoming contest with Jeff Horn in Australia in July against an opponent yet to be determined, as he looks to build his reputation in the ring ahead of what seems to be an inevitable title shot one day down the line.
Much like McGregor, whose double belt achievement in New York last November achieved a new high water mark for what is possible for a mixed martial artist, Conlan appears destined for the top and in the Dubliner sees a kindred combat spirit.
At a fan Q&A event in Belfast shortly after the UFC 205 victory, McGregor promised Conlan that he would carry the Irish tricolour to the ring in Madison Square Garden ahead of the Belfast man's professional debut last St. Patrick's weekend and now it appears that Conlan wants to return the favour ahead of McGregor's own professional debut which is expected to come opposite the 49-0 Floyd Mayweather.
Speaking to Boxing News Online, Conlan confirmed that he has been asked to be part of McGregor's camp as he prepares for the bout.
"He asked me would I come down and be a part of his camp,"" Conlan said of McGregor. "He would like me to be part of his camp for the fight if it happens. He didn't even say if it happens, he said he would like me to be a part of the camp for the fight. I'm not saying I'm going to spar him or nothing.
"He wants me to come down and be part of it and experience it all with me. I think it'll be a fantastic opportunity to go down and do that. I definitely bring something to the table. I'd definitely be able to spot things, if things are wrong, if he's throwing punches wrong, little things people who aren't in boxing do naturally.
"There's a lot of things I'd be able to give him pointers on, or tips on." But he added, "I'm not going to say I'm going to teach him how to beat Floyd Mayweather!"
Comments
comments