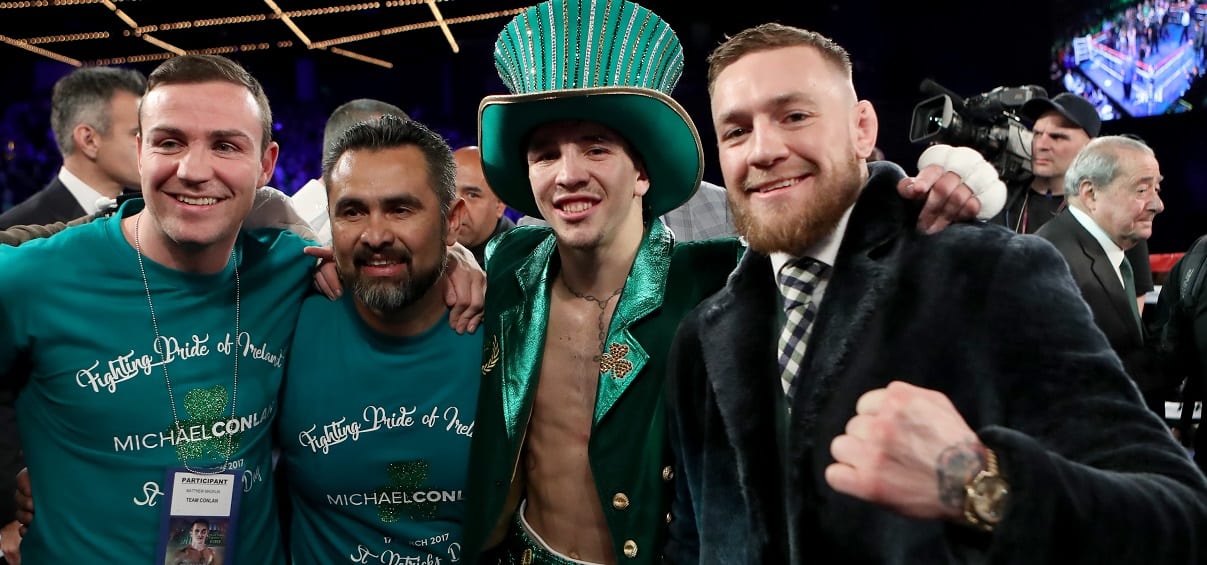 The two-time Irish Olympian, Michael Conlan, has won his professional boxing debut after a third round stoppage of Tim Ibarra in Madison Square Garden on St. Patrick's Night.
Conlan, who was accompanied to the ring by Conor McGregor, won when the referee stepped in with a minute remaining in the third round after Ibarra began to display the damage that had been dished out to him by the Belfast man. The London 2012 bronze medalist and former world amateur champion Conlan said after the bout that he felt the pressure of expectation is pleased with his first night's action in the pros.
"It was nerve wracking but I think I handled the pressure well for my debut fight," Conlan said after beating Ibarra. "I took my time and got the stoppage. I'll never forget this night for the rest of my life. I'm proud."
McGregor, who won the UFC lightweight title in the same arena last November, was complimentary of Conlan's performance. "It was beautiful work. You got the win and the win is the most important thing", the UFC champion said afterwards. As you might expect, the assembled boxing media were curious as to any developments as to the status of McGregor's proposed bout with Floyd Mayweather and the Irishman was forthright in his answer.
"Trust me on that. Look me in the eyes, 28 years of age, confident as a m—- f—– long, rangy, dangerous with every hand. Trust me, I'm going to stop Floyd [Mayweather Jr.] and you're all going to eat your words. The whole world is going to eat their words", McGregor said.
Conor McGregor showing off some of his boxing skills in Michael Conlan's corner. pic.twitter.com/UjE6eLZzLX

— Arash Markazi (@ArashMarkazi) March 18, 2017
.
Comments
comments