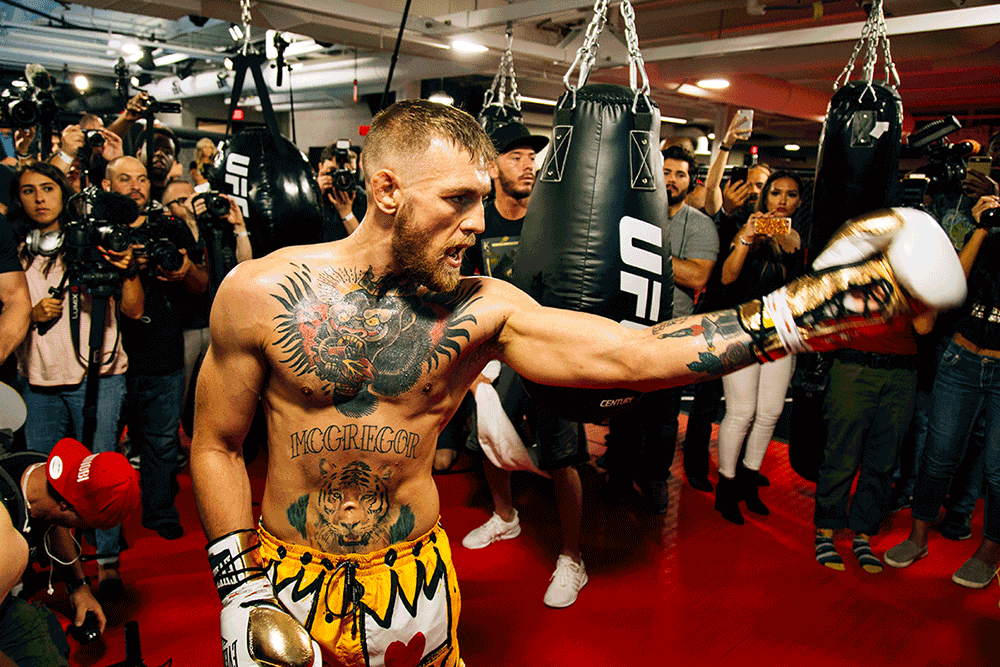 In the wake of the announcement by the Nevada State Athletic Commission, who today ruled that Conor McGregor would fight Floyd Mayweather in 8-ounce gloves, McGregor has issued his first comments exclusively to TheMacLife.com.
This morning in Las Vegas, the NSAC officially determined that McGregor and Mayweather would be permitted to fight in 8-oz gloves, despite the fact both would weigh in for the August 26 contest at 154-pounds. Traditionally in boxing, fighters weighing over 147-pounds are supposed to wear 10-oz gloves.
The decision by the NSAC appears to mark the first time in history that boxers have requested and been granted a change of weight in gloves, and was stated to be inspired by the hybrid nature of the fight. As such, both men will be allowed to wear 8-oz gloves, although a few stipulations were attached — namely that the commission would see the gloves both before and after the fight.
Following the ruling, McGregor issued the following statement to TheMacLife.
"I am very pleased with the Nevada State Athletic Commission's handling of my next bout today," McGregor said. "Fair play was kept all the way through. Referee – Hall of famer Robert Byrd. Judges – Burt Clements. Dave Morreti and Guido Cavalerri. 8oz gloves approved, with pre and post fight analysis of the gloves on the night.
"This was handled very well and very fairly by the NSAC. I am very pleased and respect the commissions ruling on this. Ten days until fight time."
The nature of smaller gloves raises a new and interesting aspect to the fight. For McGregor, who has made his name using gloves of half the size, it presents a new avenue of attack, with smaller gloves seemingly taking away from Mayweather's traditionally defensive style.
During his open workout day, McGregor even went on record to state that, should the commission make the ruling, Mayweather would be done in two rounds.
"If we're eight ounces, I'm struggling to give him two rounds, and that's the God's honest truth," McGregor said last week. "The only reason I maybe give him two rounds is because in this game the referee stops me from pounding his head into the canvas, and he has 10 seconds to recover.
"That's the only reason why he might get to the second round."
Comments
comments