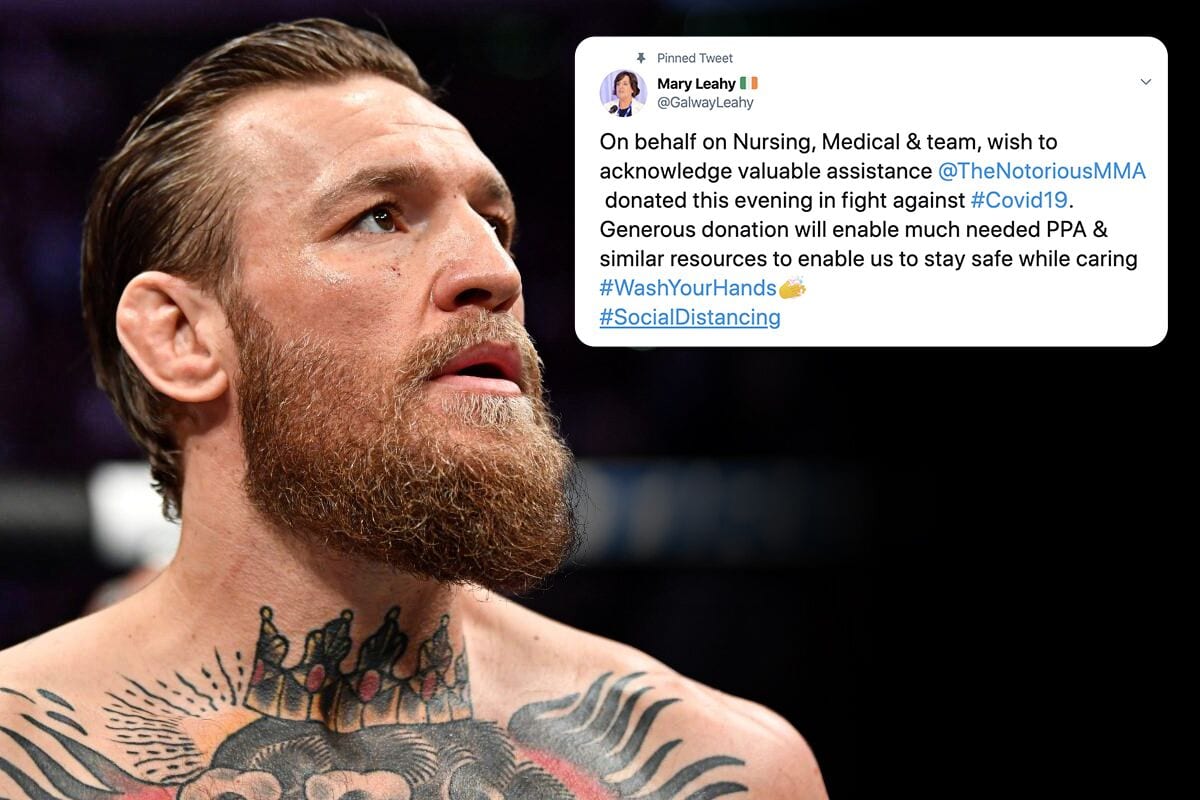 Conor McGregor has extended his assistance to the Irish healthcare system just days after saying he will supply Irish frontline medical staff members with €1 million worth of personal protective equipment to help in the battle against COVID-19.
Earlier this week McGregor issued a rallying cry to the Irish public in which he outlined the dangers to society that the coronavirus pandemic presents, calling for people to observe government warnings when it comes to social distancing, proper hand hygiene and the various other measures designed to mitigate the spread of the virus through the population.
The Dubliner followed this up, saying on social media that he would donate €1 million worth of personal protective equipment (PPE) for the various healthcare workers in the Leinster region of the country (which has been most affected thus far) who are charged with fighting the virus head on, following a conversation with Irish minister for finance Paschal Donohue.
The equipment understood to be involved includes personal protective gear such as gloves, masks and gowns as well as ventilators and oxygen generators.
On Thursday it was announced that there had been ten further deaths caused by COVID-19 in Ireland, taking the total to 19. The number of confirmed cases stands at 1,819, again as of Thursday's figures, and with the situation continuing to escalate McGregor has once again sought to provide assistance.
Following a teleconference with former Galway city councillor and nurse Mary Leahy this week, McGregor pledged further help for the Irish medical community. Speaking to the Galway City Tribune, Leahy outlined how she had expected to discuss the matter with McGregor's accountant but as soon as she dialled in she recognised a very familiar voice.
"The call lasted about 40 minutes," Leahy, who is a former Vice President of the Irish Nurses and Midwives Organisation, said. "I was the only medic on the call so he asked for an explanation of COVID-19 and I told him about the role he had to play in getting the message out there to younger people about congregating in groups."
On behalf on Nursing, Medical & team, wish to acknowledge valuable assistance @TheNotoriousMMA donated this evening in fight against #Covid19. Generous donation will enable much needed PPA & similar resources to enable us to stay safe while caring #WashYourHands#SocialDistancing https://t.co/rVE8nSeUXq

— Mary Leahy 🇮🇪 (@GalwayLeahy) March 25, 2020
She says that following the discussion with McGregor he pledged to secure further medical supplies for healthcare workers in the east of the country, adding that she said she would "see him in the ring" if the offer of assistance wasn't extended.
Remember — you too can join in this fight by strictly adhering to the guidelines announced by the Irish government. Stay home as much as possible and refrain from socialising in groups larger than four people, all while keeping a space of two metres between you. Every one of us can play our part by keeping ourselves and our loved ones as safe as possible to limit the strain on our hospitals.
Comments
comments