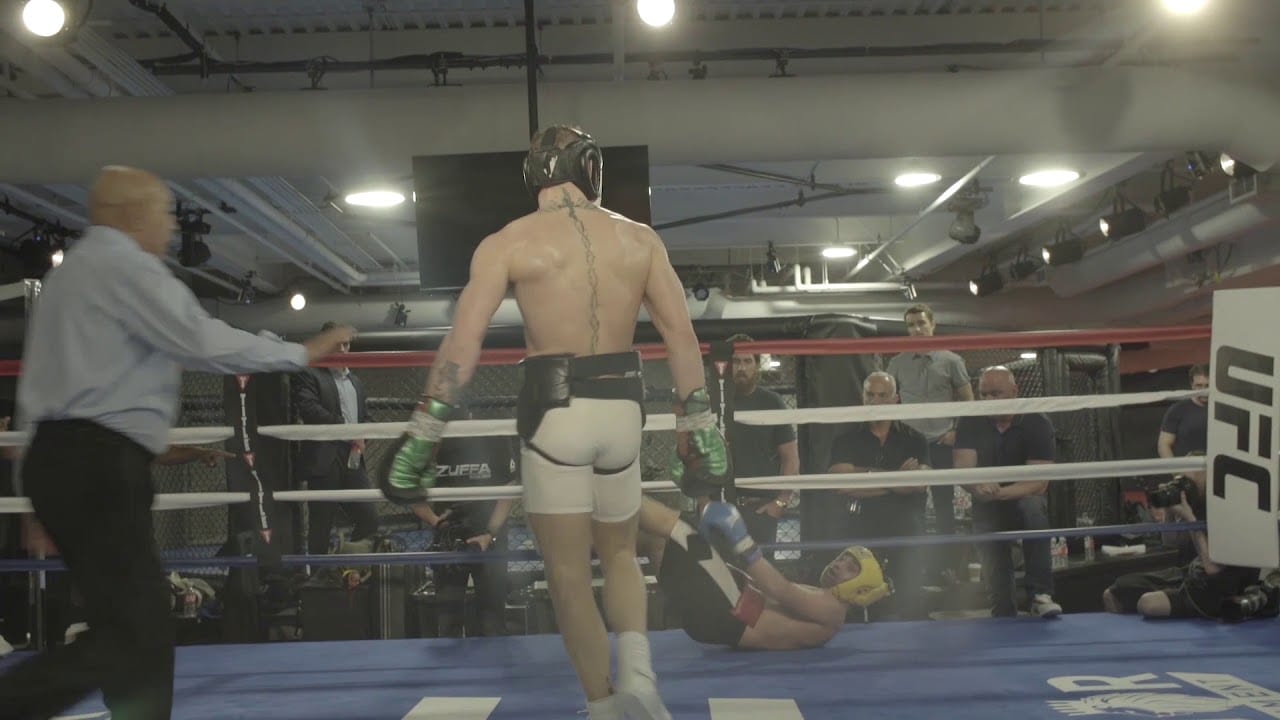 It was anticipated, it was discussed and finally, it was seen. Last night the sparring footage of Conor McGregor and Paulie Malignaggi went public, sending the MMA and boxing worlds into raptures.
In the lead up to McGregor's mega-contest with Floyd Mayweather on August 26, Malignaggi — former world boxing champion — had been considered a litmus test for McGregor. Should the UFC star perform well against the New Yorker, it would give credence to his supporters belief and dampen his doubters skepticism.
The test was handed out, and the test was passed.
The footage, short clips though they may be, paint a decisive picture. Malignaggi is hit repeatedly, in particular by McGregor's patented left hand, before crumbling to the canvas after a series of blows.
Here is the video everyone wanted to see of Conor vs Paulie Malignaggi former IBF and WBA World Champion @TheNotoriousMMA pic.twitter.com/GfFP3SKsye

— Dana White (@danawhite) August 12, 2017
The takeaways? A multitude.
Firstly, any concerns that McGregor's mixed martial arts striking won't carry over to boxing should be laid to bed. The straight left has landed too many times to be disregarded as fluke.
Secondly, Malignaggi's future is clouded. Since leaving the McGregor camp in a fury after pictures were released showing him in an unflattering light, Malignaggi has done a range of interviews to discuss his experience — each more condescending than the last. His claims that his arse hit the floor from a pushdown not a knockdown appear to be, at the very least, highly questionable.
And if any conversation is left to be had about how Malignaggi went down, there is no discussion on his previous account of the skirmish.
"The funny thing about the push down was this — it was during one of his worst moments," Malignaggi said earlier this month to MMAFighting. "He pushed me down on the floor to try and catch a break and the instant I went down I got back up. I remember when I was down I continued to trash talk. I said, 'Buddy, you need a break?' because Cortez had to wipe off my gloves."
While Malignaggi continues to deny the knockdown, last night taking to Twitter (posting just under fifty times since the footage was posted) on a rant about angles and doctored footage that would make Eddie Bravo proud, the question marks now float around him, not McGregor's ability.
What I been saying still holds true, he gets 11 and 12 of which he shows footage and the "knockdown" is right hand draggin me down. 36 min.

— Paul Malignaggi (@PaulMalignaggi) August 12, 2017
But it's not just Malignaggi's behaviour that raises queries. The two sparring videos were released by none other than UFC president Dana White. At the exact same time as Showtime's All Access show — conspicuous with it's lack of the same footage — no less.
If White, McGregor and the Showtime brasses relationship was heating up before, last night's spark surely set it ablaze. It's perhaps a layer of contention that could be avoided, but then again, in the world of combat, what's another conflict?
All in all, it's scintillating drama to tide us over until the madness of fight week, offering fans tribute to keep them satisfied for now.
And of course, while they all analyse, criticise and verbalise, McGregor merely continues to prepare.
For all the people who think @TheNotoriousMMA can't box. This is gonna be a FIGHT! Conor vs Paulie Malignaggi former IBF/WBA World Champion. pic.twitter.com/CcTkFq0fhr

— Dana White (@danawhite) August 12, 2017
Comments
comments