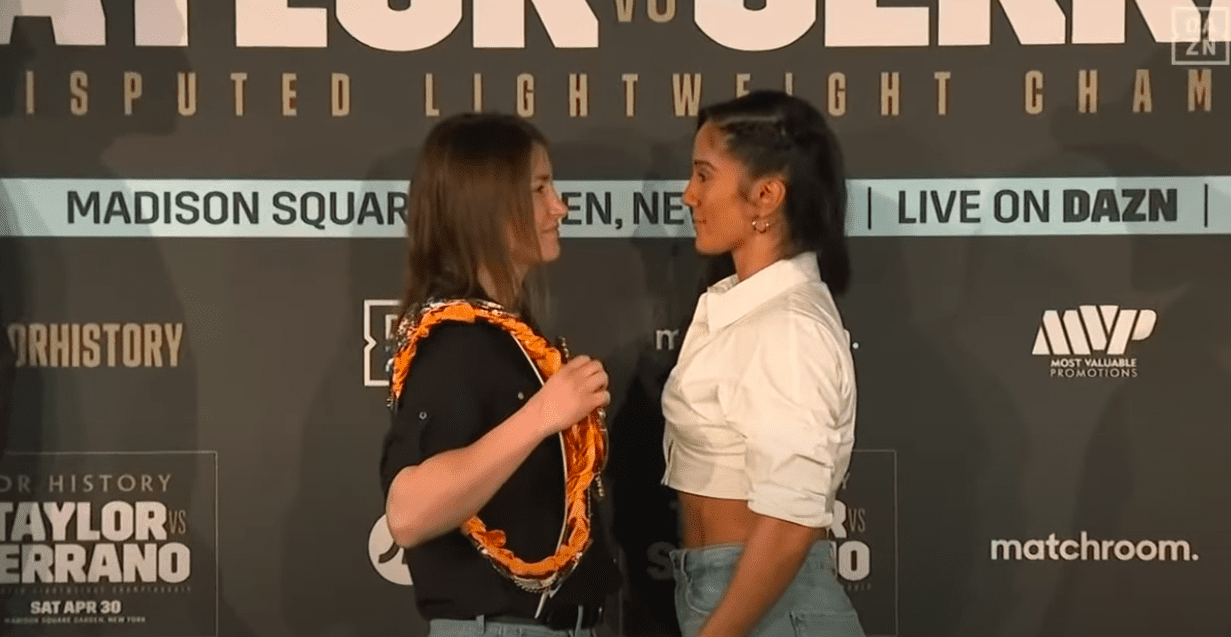 It says something about the rise that women's boxing has been on in recent years that the biggest fight in the sport in 2022 will be headlined by two female fighters.
Of course, much of that rise has been authored by the two women who will finally meet in Madison Square Garden in late April in a fight being (correctly) hailed as the biggest female fight in the sport's history, and when they came face-to-face at Monday's press event in London, the scale of history was clear to both.
"This fight will tell us who the number one pound-for-pound female fighter in the world is," said Taylor, who was flanked by her promoter Eddie Hearn, Serrano and her promoter Jake Paul. " That adds another edge to this kind of fight. That's another reason why this fight is so historic: it's the number one and two fighting each other and we're going to see who the best is."
View this post on Instagram
But while the stakes are about as high as they have ever been for her Serrano, the seven-weight world champion hoping to take Taylor's crown, says that she more than respects the Irishwoman's achievements.
"This is business," she said. "We're in the same business. She's undisputed, I'm trying to be the undisputed champion. I have nothing but respect for Katie as a champion and [for] what she's done in this sport. Right now I don't dislike her but come April 30th when I'm in that ring it's a whole different story. Then after I can go back to liking her."
And Taylor, again central to female boxing history, wants occasions like this to be commonplace.
"We need to see more big fights like this," she said. "I know that the likes of Claressa Shields and Savannah Marshall… those kind of fights as well, that's absolutely brilliant for the sport. They're exactly the kind of fights we need to see on a consistent basis.
"We need big nights like this. We've definitely covered a lot of ground over the last few years in women's boxing. We're breaking the ceiling here in terms of female purses for this fight as well. That needs to continue, we just need more and more big nights like this."
Comments
comments