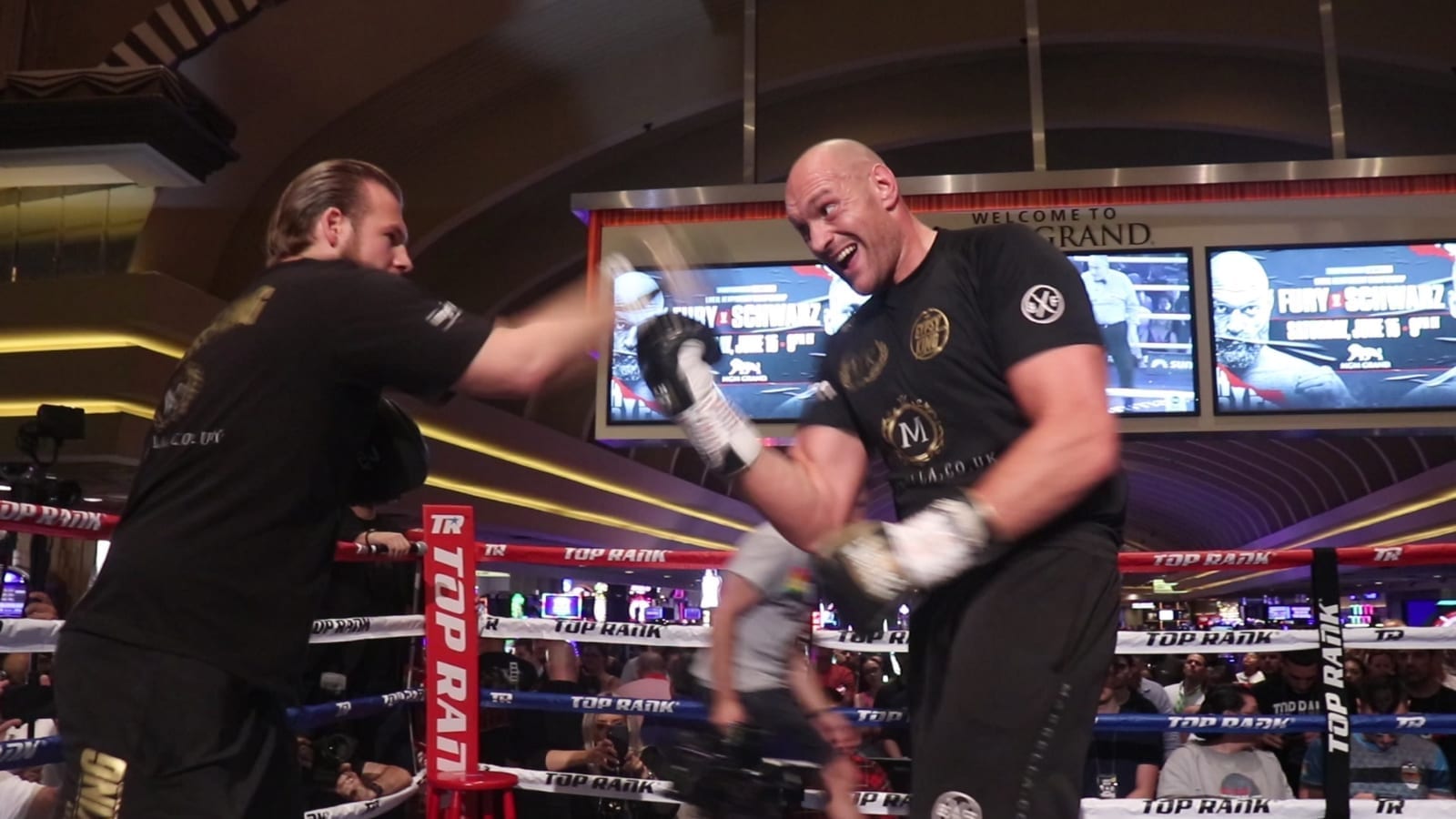 Tyson Fury's flirtation with mixed martial arts has raised eyebrows amongst some, with fans questioning if the heavyweight boxer is really serious about the challenge.
Fury was recently seen training alongside UFC middleweight Darren Till, working elbows and knees with the Liverpudlian. According to Fury's coach Ben Davison, the man credited with getting Fury back from the brink of self-destruction to being one of the best heavyweight boxers in the world, it doesn't matter what Fury's intentions are with his MMA training and WWE stints — he knows when it's time to go to work.
"Tyson's always been, for many years now, a big name in the sport of boxing," Davison said to TheMacLife. "To go across and branch out and to reach the wide audience that he is now, that's just credit to management and to his team and himself for putting in the work as well.
"He's done it in his rest period, which is a positive obviously. My job is to say to him [when] it's time to go into camp, but he's an experienced fighter as well. He knows that time's coming to knuckle down, and that's exactly what he'll do. He's done this and all this media stuff, and got it out of the way so that when it's time to knuckle down for training camp, he hasn't got to do too much of it."
Despite seeing his ward have fun with other disciplines, Davison admits he wouldn't be much help for Fury should the boxer want to transition across to the other sport.
Perhaps that's why he doesn't have much objection to Fury and Conor McGregor's recent suggestions that they could end up training together.
"Listen, I don't know what I'm looking at," Davison said regarding MMA. "I'll give him an honest opinion, if he weren't no good at it I'd say to him, 'Swerve this one', but if he's good at it — which anything he puts his hands to, he's pretty adaptable to — then I don't see why not. But for the minute his full focus is on boxing. One step at a time.
"I heard Conor's trying to take my job … I wouldn't quite call him out on it because I think he'd get the better of that one."
Comments
comments