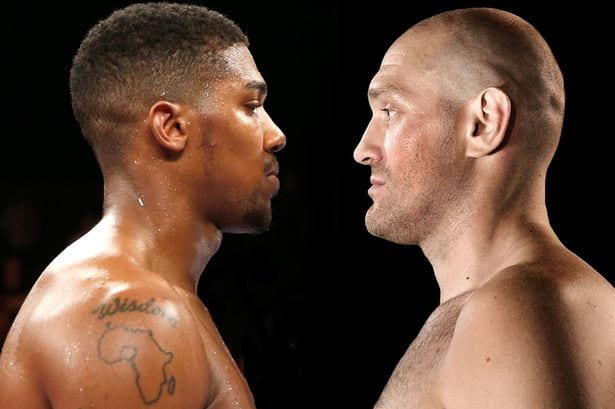 Despite taking heat from some sections of the boxing press for forgoing sterner challenges in his own sport to take on Francis Ngannou in Saudi Arabia next month, Tyson Fury says that he isn't keen on settling a score with Anthony Joshua.
The two boxers, almost certainly considered the two best British heavyweights of their generation, have been linked to a bout with one another for several years. However, for a variety of reasons a Fury vs. Joshua bout has failed to get off the ground despite several close calls in the past three years.
And speaking to iFL TV recently, Fury said that any fights fans holding out to see the contest shouldn't hold their breath.
"There is no AJ to me is there," Fury said. "He's a gym sweeper. Sweeps the gym floors and that. Gets beat up on by people. He's like an old journeyman now. If you're a decent heavyweight and you want to beat up on somebody, call him out. You'll beat him easy. Sausage.
"I'm on to the big fights. And I don't mean the big men, I mean the bigs boys. Him, Ngannou, and Jon Jones in a cage. I want challenges. Not easy bait. They're all bums, the boxers. I've already proved I'm the best boxer on the planet now I want to prove I'm the best fighter on the planet."
Fury will attempt to prove that when he fights former UFC heavyweight champion Ngannou in Riyadh on October 28.
Comments
comments