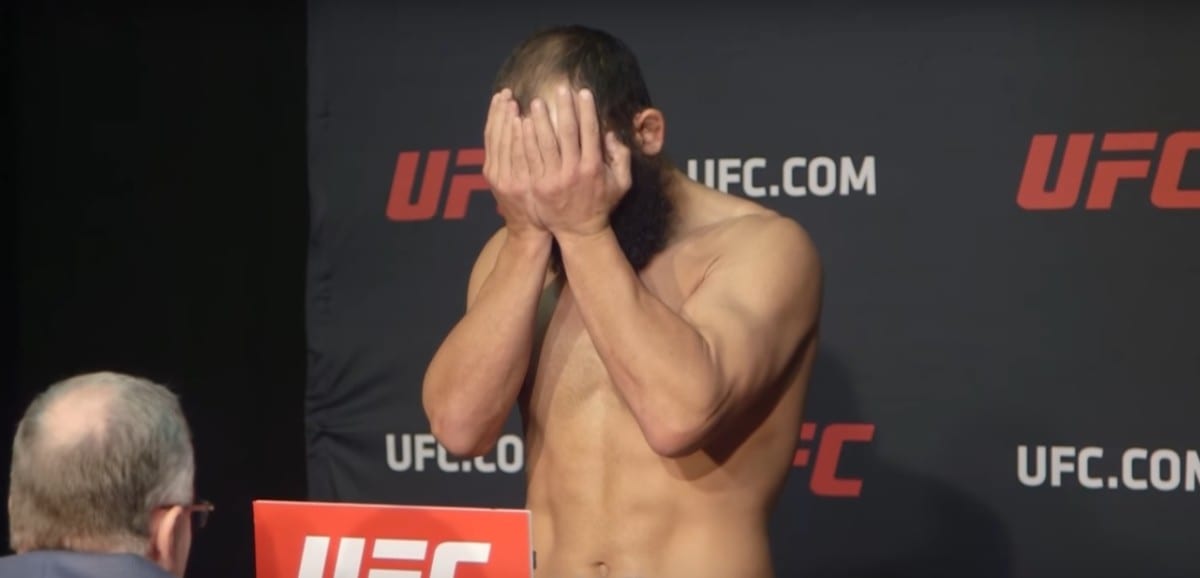 The topic of weight-cutting in mixed martial arts is becoming an increasingly alarming point of narrative.
Numerous bouts have been struck from the UFC schedule in 2017 alone due to incorrect or unhealthy weight cuts, as fighters attempt to coax the last surplus of energy from their systems in order to make a contracted weight ahead of a fistfight the following day. The dangers of this are self-evident but as long as the practice remains, there will be some fighters who employ nutritionists to monitor every calorie they consume in the weeks before stepping on the scales.
Others do not have that option. Mixed martial arts, particularly outside UFC level, isn't exactly a profitable endeavour for many of those who choose to compete in it and the concept of adding the costs of a nutritionist to that of a coaching staff and the dozens of other ancillary financial costs that come with being a professional fighter is oftentimes impossible. Last weekend at UFC 216, for example, Pearl Gonzalez earned just $10,000 for her loss to Poliana Bottelho — a sum which doesn't leave a whole lot of wiggle room for additional expenses.
Further up the card, main event fighter Kevin Lee's own weight cutting woes threatened to disrupt his interim lightweight title bout with Tony Ferguson. Lee was initially a pound over the weight allowance but made the weight at the second time of asking after receiving special dispensation from the Nevada Athletic Commission. He did so looking extremely dehydrated and gaunt.
A late change to the status of the UFC 216 main event would have been the second time this year that a difficult weight cut would have trifled with the 155-pound interim title. Earlier this year at UFC 209, Khabib Nurmagomedov was hospitalised and ultimately removed from a bout with Ferguson after his body didn't react well to attempting to make championship weight.
Lee, while he did eventually make weight, and Nurmagomedov are just two examples at the highest level of the sport but there are many more. Johny Hendricks, the former welterweight champion, and Kelvin Gastelulm have both moved up a division after experiencing repeated difficulties in making weight.
But the problem also persists elsewhere in the MMA landscape, though perhaps without the same level of media coverage.
Recently at a fight card in Japan, one competitor was visibly incoherent and feint as he was escorted to the scales by his team in a video which has drawn a backlash from the mixed martial arts community.
Theres cutting weight and then theres endangering your damn life! A Japanese MMA promotion let him fight at the weekend. Lost a UD 😡 pic.twitter.com/fYiDkPCDMj

— EditinKing Boxing 🥊 (@EditinKing) October 9, 2017
shame on the team and the promotion.

— Coach Kavanagh (@John_Kavanagh) October 9, 2017
Marc Goddard, unanimously hailed as one of the finest referees in the sport, was furious at the above clip and spoke out on his Facebook page.
"You want to know about weight cutting ? You want to talk about negligence? Danger? Disregard?", Goddard wrote. "This was the shameful scenes last week at the Pancrase weigh in. And yes it looks like a potential tragedy in waiting and shameful. However it all pales into sheer insignificance to the fact that he actually ALLOWED to fight. Everyone and anyone involved or included in this debacle hang your head in total shame.
"This fighter was "medically cleared" and allowed to fight a fully scheduled fight that somehow went the distance. It was nothing other than sheer luck, total roulette that nothing tragic occurred. There was already a tragic passing of a fighter last year in Asia due to complications of weight cutting that led to ONE FC reinventing their procedures and protocol.
"If you can't make it to a scale under your own steam AND miss weight under such obvious problems there is your fucking GIGANTIC clue right there."
Goddard elaborated on this thoughts with a follow up video.
In a change to a decades long practice, the UFC and various athletic commissions within the United States recently adopted an earlier weigh-in procedure which would give fighters a two-hour window on the morning of the eve of their fight, instead of the traditional public weigh-ins which had been standard until that point.
However, not everyone is a fan of the new early weigh-ins. Speaking earlier this year, Georges St-Pierre said that the new system could actually harm fighters more than it protects them.
"I'm not a big fan of cutting weight. I always prioritize my health over my performance", St-Pierre said. "I believe the new weigh-in in the morning (the day) before the fight, I think it's a bad thing. Because now guys, they see it as an opportunity to cut more weight. So, I think it's a bad thing.  I told Dana when I saw him that I don't see it as a good thing.
"I think they have to change it because one day someone will die. One day someone will die and it will affect all of us. It's very bad for your health," he said.  "There is a certain percentage of hydration in your body that is critical, that you can actually die if you're past that point.  It is very dangerous."
Gunnar Nelson, in his own inimitable way, denounced the concept of weight cutting as a whole saying: "I don't like this whole weight cutting thing. I don't like the idea. I think they should slowly get rid of it, or just quickly. I think it's a bunch of bollocks.
"Why do two men the same size cut up to 15 kilos, weigh in the day before and then walk in the ring and put on 10 or 12 kilos the next day? Why is this happening? It makes absolutely no sense. Almost everyone cuts a huge amount of weight just for people to kill themselves for a few kilos. It's nonsense; let's face it."
Mizuto Hirota misses weight at the recent UFC Japan card.
In the summer, the addition of supplemental weight classes to bridge the gap between the current divisions was broached but speaking post-fight at UFC 214 in July, Dana White answered with an emphatic "nope" when asked if he was considering implementing any new weight classes.
With the stakes constantly raising in modern day mixed martial arts, it is worth remembering that the sport is still young and isn't yet immune to teething problems. So long as there are advantages to be drawn from cutting weight, it is still a practice that will be tolerated. But as all of us — fans, media and fighters alike will surely agree — lets hope that it doesn't take a tragedy of unspeakable magnitude to force the debate into the mainstream.
Comments
comments