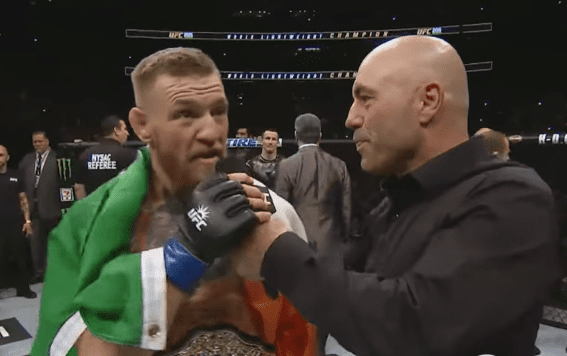 Irish journalist Joe Brolly has fixed his crosshairs firmly on mixed martial arts but his alarmism reveals more about its author than it does the sport he purports to bemoan.
I will let you in on a little secret: Conor McGregor is big business. Throughout my career as a journalist at various different publications in the last decade, no figure within Irish sport, or even Irish culture as a whole, has generated more interest than him when it comes to the cold, hard analytical data which dictates a website's editorial strategy.
The sheer mention of McGregor's name in a carefully-crafted headline would send that particular piece straight to the top of Google Analytics, a tool used industry wide to judge real-time web traffic.
This was the source of great consternation for editors countrywide. An immaculately researched dissertation on the failings of John Delaney's FAI, for example, would be second in views (by a distance) to a hastily-assembled article featuring a photograph of Conor McGregor paying for petrol somewhere off the N11.
Joe Brolly, in his own pair of hastily-assembled hit pieces published by the Sunday Independent over the last two weekends, is no stranger to this concept. Brolly, a former Gaelic Football player turned professional alarmist used his platform in the national media to publish a piece calling for the end of "the UFC's bloody freak show", taking aim not just at McGregor and the UFC but also fans of the sport (and this writer, who Brolly adjudged as deficient of the cognitive abilities required to "understand" the complexities of his argument.)
The opposite is true. His pieces were so revealing that they are practically transparent.
Brolly imbued his pair of articles with a very uncomfortable tone, at one point harking back to an era where slaves were forced to fight each other for their master's amusement. The use of descriptive language when describing the UFC 229 bout between "black man" Ovince St. Preux and "fine specimen" Dominick Reyes is an incredible leap to make, given that a white writer attempting to link modern black athletes to slaves is unnecessary at best and intentionally distasteful at worst.
In fact, it is the restriction of a person's rights (such as an athlete's right to perform in mixed martial arts) which is more thematically similar to the concept described by Brolly.
Having somewhat clumsily levied comparisons with slavery towards the UFC, the next logical stop on this train is prostitution as the author claims that it would be fitting if a "glamorous prostitute" would be shipped into the cage in the aftermath of a bout to "screw" the winner live on pay-per-view, which wouldn't particularly deserve mention if it wasn't followed swiftly by an additional passage.
Michelle Waterson, a UFC fighter sometimes referred to by her nickname 'The Karate Hottie', is pointed to immediately as someone "who has done naked photo shoots (sic)", a clear dog-whistle by the author to paint the sport as the sort of tawdry activity populated only by porn stars and page 3 models. The author fails to note that in the very same publication, the ESPN Body Issue, athletes such as Serena Williams appear but presumably aren't perpetually painted with a similar brush.
More specifically, one could argue that Waterson's appearance in the magazine further legitimises MMA as a sport, as she appears on the same pages as some of the world's most respected sports figures.
It's easy to cast judgment on others when you've never walked a day in their shoes. Martial arts is a way of life in which you learn through experience, most likely something @JoeBrolly1993 would know nothing about.

— Michelle Waterson (@karatehottiemma) October 16, 2018
In a second piece published last weekend by the Sunday Independent, Brolly doubles down on the first. A committee is being formed, he says, with the intention of bringing about a permanent ban of mixed martial arts in Ireland followed shortly thereafter by an odd paragraph (the longest in the piece, incidentally) in which Brolly lists the specific insults he received on social media as a result of his initial article, as if that these types of trolls are symptomatic to MMA specifically and not the internet at large.
It should also be noted that Brolly appeared to engage with and retweet hostile messages only and shunned most attempts at a reasonable, honest debate. An offer to discuss the sport from John Kavanagh was rebuffed, instead a more than two-year old tweet of his was rehashed with any context whatsoever. It is a straw man argument. An effort to undermine a topic to raise a baying mob.
This sport certainly isn't for everyone. It is perfectly reasonable for some to not have the palette for it, or to find the idea of prizefighting difficult to stomach. Some others even faint at the sight of blood. The hole in this particular dike, though, is Brolly's utter misconception of why it is that people watch or train in mixed martial arts.
For a second I thought the reference of Joe Brolly "1993" was when the article was written! C'mon we've moved on (significantly) passed the whole "no rule" ignorance. You can find misdemeanour & misconduct in many sports, ban them? Factually incorrect and utterly negative. https://t.co/ZvYqFCNYHJ

— Marc Goddard (@marcgoddard_uk) October 14, 2018
Beautiful response John, but people that wish to take away something from MILLIONS of people usually will never listen to a reasonable response because they are close minded to anything they don't understand or is outside of their very small world https://t.co/SWyIUmQhDY

— Big John McCarthy (@JohnMcCarthyMMA) October 15, 2018
I have covered MMA professionally since 2007. I have yet to meet anyone involved in the sport who does so to satisfy some sort of primal bloodlust, or people who do it with the express intention of inflicting physical pain on another human. The opposite is true. The late UFC champion Evan Tanner, for example, would often say he struggled to come to terms with the notion that his own success could only be achieved at someone else's expense.
In Gaelic Football, the sport from which Brolly achieved prominence, I have heard stories of ears being yanked clean off of a player's head. Brawls are commonplace (check your twitter feed). Religious tensions are regularly stoked. Hell, I have even heard a story about a gun being brought into an opposition team's dressing room and discharged into a ceiling at half-time.
That isn't my sport I will admit, but nor would I use these as examples of some sort of moral deficiency which exists in its culture but more so an outlier of what can happen when things go wrong. The same is true in any sport.
At one point in his second article, Brolly boasts that the first generated more than a million readers to his publication's website so it was of little surprise when a sequel was rushed out on Sunday morning as he, and the website that he writes for, began to benefit themselves from the Conor McGregor economy which exists in the Irish media.
MMA still remains stigmatised in Ireland and articles like Brolly's do not help in the hunt for regulation and recognition from Sport Ireland, a move which would directly benefit all involved, increasing the already stellar safety practices which have been brought into action by Kavanagh and others. Ill-informed hit pieces such as Brolly's serve no purpose other than to raise the pulses of people on both sides of a debate well worth having, ultimately severing the two parties further in twain.
One day though, the hope remains that athletes in mixed martial arts will be recognised as being of a similar level to those we can all get behind, perhaps one day to the same level as someone like Serena Williams.
Even if she has done naked photoshoots.
Comments
comments