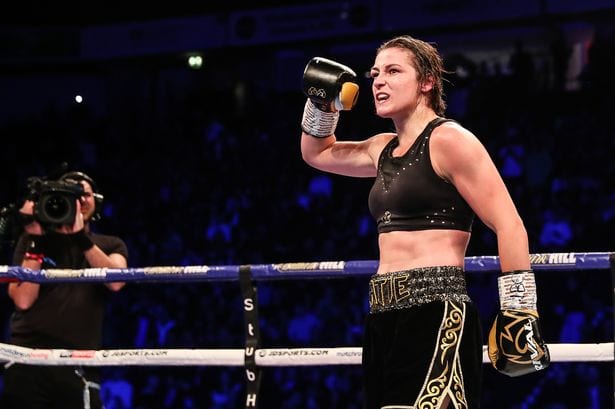 Katie Taylor will attempt to become a two-division undisputed champion in what will be the Bray native's first professional fight in her home country of Ireland on May 20. 
Taylor, the world's undisputed lightweight champion, will challenge the UK's Chantelle Cameron inside Dublin's 3Arena on May 20, it has been confirmed. The fight comes after a planned rematch with rival Amanda Serrano was postponed after the Puerto Rican fighter suffered an injury which ruled her out of the bout.
"Absolutely. It's incredible that after 22 fights I'm finally making my homecoming fight," Taylor said when asked if her showdown with the 17-0 Cameron will be her toughest professional bout to date. "Big-time boxing is coming back to Ireland and not with just an ordinary fight, it's two undisputed champions going head-to-head."
It will be the first time in boxing history that two undefeated and undisputed champions have met in the ring.
"This is one of the most exciting fights out there right now," Taylor explained. "Once I heard Serrano was out, Chantelle was the obvious choice. I think this could be another fight-of-the-year contender, but ultimately I do have more experience in the bigger fights.
"I've fought the better opponents and I'm going to be mentally, physically and spiritually more prepared than ever. I do expect a tough fight obviously, but please God I'll be going home a two-weight undisputed champion. She has a spotless career, undisputed champion and she has the style to make this another epic."
Northampton's Cameron, who boasts 8 knockouts in her 17 wins, added that women's boxing owes a lot to Taylor, as well as other industry leaders like Claressa Shields.
"There's a lot of respect there. But this is my career and my legacy and I'm coming to win," said Cameron. "Katie is pound-for-pound the best women's boxer there is and if I can win I can walk away from boxing one day and think 'I took out the best there is'."
It was also revealed by Taylor's promoter Eddie Hearn that Conor McGregor's Proper No. Twelve will be a key parter for the May 20 event, with Hearn detailing McGregor's efforts in attempting to assist the plans for the fight amid ructions between Matchroom and the initially considered venue, Croke Park.
"Even through the whole Serrano stuff, [McGregor] was messaging me non-stop, following it on social media, 'so what's happening now?' said Hearn. "Then it was like, 'wow, I can't believe it's still on — so what's the plan?' He genuinely — away from the publicity and stuff like that — cares that she's coming home to fight. He's been to her fights before and he's a big help and supporter."
Comments
comments