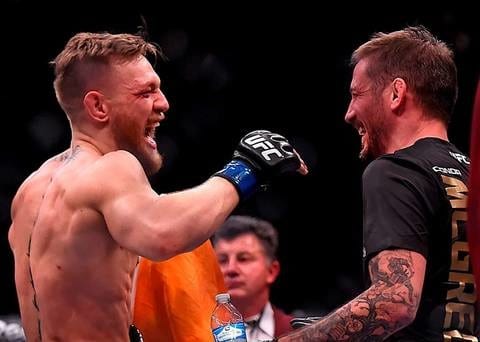 Over the past few weeks, Floyd Mayweather has managed to catch the attention of MMA and boxing fans alike by merely suggesting he'd be open to stepping foot in a UFC Octagon.
The undefeated boxer, who's been notorious for having a 'low-risk/high-reward' strategy throughout his career, has taken up posting short clips to his social media featuring himself wearing MMA apparel and standing in a mixed martial arts cage.
From some of those on the outside looking in, there is a feeling of skepticism, with plenty suggesting Mayweather is merely attempting to keep himself in the public eye. From those involved in the sport, such as UFC president Dana White or Mayweather Promotions CEO Stephen Ellerbe, there's more a wry smile and casual shrug whenever the topic is brought up.
Naturally, there is interest. Last year, Conor McGregor and Mayweather clashed in the biggest fight of all time in boxing, with McGregor going ten rounds against the now 50-0 star. While Mayweather had said prior to the contest that he would be open to a rematch in the Octagon, few took the American at his word.
But, for anyone who was there when McGregor/Mayweather took place, it seems to be hard to rule it out completely. Case in point, McGregor's coach, John Kavanagh.
"I'm kind of reminded of early last year when I was asked about the boxing fight," Kavanagh said, speaking to TheMacLife.com. "And I was doubtful as anybody, and I actually went as far as to stupidly tweet that I'll do the Irish river dance naked … if Floyd steps in the Octagon. Now, I'm going to be honest, I'm practicing Irish dancing, and I'm getting nervous about that.
"In all seriousness, it's a crazy world we live in. The fight that could never happen happened. And now this is a fight that can never happen, and it seems to be getting.. I don't know, there seems to be something forming there. I would absolutely love it."
I will do the Riverdance naked the day Mayweather fights in the ufc. Absolutely never going to happen. Not ever. pic.twitter.com/yAUbche7OC

— Coach Kavanagh (@John_Kavanagh) December 20, 2017
For Kavanagh, a McGregor vs. Mayweather fight under mixed martial arts rules is a throwback to the beginning of the sport. The entire concept for the UFC was based on how a certain style would perform against another, and what worked best in hand to hand combat. And while the sport has since evolved from that era, the opportunity to see it in action once again would be hard for Kavanagh to resist.
"I come into martial arts not to win UFC titles," Kavanagh said. "I come into martial arts out of curiosity of martial arts, self-defense, and really what got me involved in UFC 1, what was so intriguing, was from having done various martial arts my whole life was to see how does a sumo do against a kickboxer? How does a jiu-jitsu guy go against a wing chun practitioner?
"And after the first four or five UFCs, it became obvious what styles were a waste of time, and what training systems worked, and then it became more of a sport. And that's great, I enjoy it and that's what I spend most of my time doing. But I still like looking at the odd YouTube video — 'karate master challenges jiu-jitsu guy' — and this reminds me of the early days. One of the best boxers ever against one of the best MMA fighters ever, what will happen? We all know what will happen — but still I'm not going to say it doesn't get the curiosity going.
"So yeah, it's a bit of a throwback to the UFC 1, 2 and 3 days. More of a spectacle than a sport, but it would be a fun fight to be involved in."
Currently, although nothing is as yet scheduled, McGregor is predicted to return to the cage against the winner of the Khabib Nurmagomedov and Tony Ferguson bout at UFC 223 in April — but according to Kavanagh that doesn't mean the UFC champion and his team couldn't squeeze in a contest with Mayweather in the meantime.
Hell, maybe you could even hold them both on the same night.
"Now, let's be realistic here," Kavanagh said. "If the fight was to happen, I would nearly be saying to Conor and pushing Conor to say, 'Let's book that two or three weeks before a real one'. Because we can go in and — I'd almost insist that in that fight Conor shoots a double leg early — because I'd be almost annoyed if he went in there and put him away quickly with MMA striking. We need to see jiu-jitsu in that fight. He needs to be in the mount slapping [Mayweather] about a little bit. So it would be, I think, such a straight, easy fight that we could train realistically for it and then do a competitive MMA fight on the backend of it.
"So I think it's one of those ones we could squeeze in getting ready for a fight. I know that probably comes across a certain way, but I can only say what I'm thinking, I can only say what I feel … if that was to happen, it's not the type of fight that Conor's gonna have to do a real specific 12 weeks for, and then take three or four months off afterwards, and completely get ready for another one.
"You could kind of do that one and fit it in on the night of his real fight."
—
Comments
comments