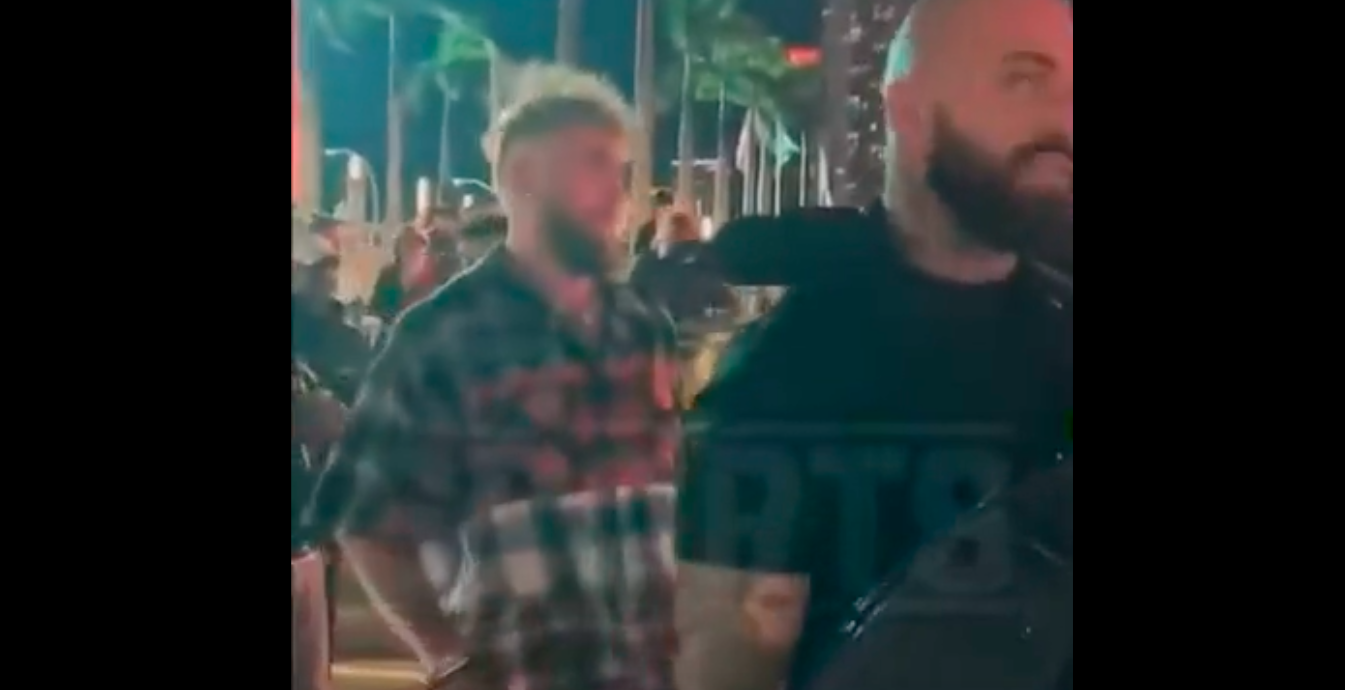 Jake Paul has issued a statement to social media following a late night scuffle with Floyd Mayweather and his (extended) entourage in Miami late on Wednesday night. 
Paul, who once infamously stole Mayweather's baseball cap at an event promoting his brother Logan's exhibition bout with the retired boxer, had another run-in with the American fighter following a Miami Heat game. Video footage published by TMZ shows Paul being confronted by a large entourage of Mayweather's, after which Paul runs away.
"Look, he's running! Jake Paul running champ! Why is he running?" the person filming the incident can be heard saying. Another person can be heard saying, "Are we going to bust him up, guys?"
Floyd Mayweather and Jake Paul seemed to have an unfriendly meeting in Miami. 🍿pic.twitter.com/kzEh1ctUyc

— Fight Network (@fightnet) March 9, 2023
Floyd if you want to fight 1 on 1 we can do that but don't try to hop out of 3 cars 25 dudes deep tryna to jump me while I'm tryna enjoy my Wednesday night

— Jake Paul (@jakepaul) March 9, 2023
Paul later elaborated on the incident on Instagram: "So I'm leaving the Miami Heat game and Floyd Mayweather and 50 dudes pull up out of nowhere. Out of some side alley waiting for me outside of the stadium. They're like 'what's up, what's all that talk now!'
"50 dudes literally start surrounding me to try and jump me. I'm out that b*tch. Floyd, you want to run it one-on-one, no problem. But I'm not dumb. I'm tough. I don't need to prove my toughness but I'm not f*cking dumb. I'm not going to sit there and try to fight 50 dudes. Dipped out of that b*tch "I just took your hat and you're still mad about it? Come on, bro."
Paul's next move remains unclear as he rebounds from his first career boxing defeat last month against Tommy Fury. He has suggested that he will take up the rematch clause which exists in his contract, but there is as of yet not indication as to when that might happen. As for Mayweather, he has vowed to continue taking part in exhibition contests — even if the appetite for them appearing to be dimming, after his recent bout with English reality TV star Aaron Chalmers took place in front of a nearly-empty arena.
Comments
comments