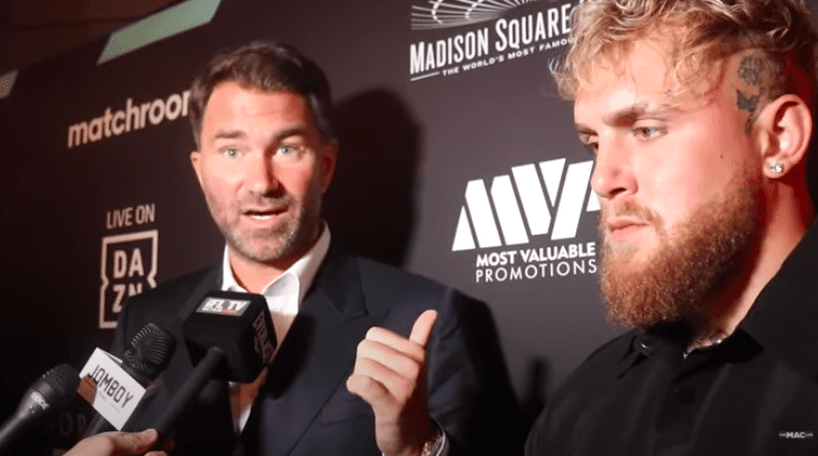 Jake Paul's claims that combat sports judge Glenn Feldman is on the take might well cost the novice boxer a pretty penny.
According to a report by ESPN, Feldman has joined boxing promoter Eddie Hearn in filing a lawsuit against Paul after the YouTuber accused Hearn of being in league with Feldman to fix prominent boxing matches in 2022, including Katie Taylor's win against Amanda Serrano and Oleksandr Usyk's recent victory against Anthony Joshua.
It was Paul's contention that Feldman was incorrect in his judgment of Taylor's win in Madison Square Garden earlier this year, and was the sole dissenting voice in what appeared to be Usyk's comprehensive points with against Joshua, a fighter promoted by Hearn's Matchroom Boxing.
"I still think Amanda Serrano won the fight [over Katie Taylor]," Paul said to iFL TV. "Then you see how this judge Glenn Feldman, who had the biggest gap between Taylor and Serrano. Everyone pretty much had it a draw… a draw or that Amanda won. But there's this judge, Glenn Feldman, who scored it such a big gap for Taylor, gave rounds that Amanda clearly won, to Taylor.
"Then this judge, Glenn Feldman, shows up in Saudi and scores Anthony Joshua to win [against Usyk]. Everyone who watched the fight [knows] it's not a split decision. Usyk had a runaway victory, clearly won the fight. This judge, Glenn Feldman, gives it to Anthony Joshua? It's like a repeated crime here. This type of sh*t, I'm going to call it out here in boxing because it's bullsh*t. Clearly, this guy is getting paid money by Matchroom Boxing."
Hearn is understood to be pursuing damages of $100m, while Feldman's separate case is also seeking an unknown cash payout.
"[Paul's] statements have harmed Feldman's reputation in the public, impute the commission of a crime, and/or call into question Feldman's fitness to perform his work in his trade and profession," Hearn's attorney Frank Salzano stated.
Salzano added that Paul's statements require a court to issue punitive damages given the potential harm that such allegations might have on his professional career, while also saying that Paul "maliciously using a campaign of lies to discredit Feldman".
Further updates are expected in the coming weeks.
Comments
comments