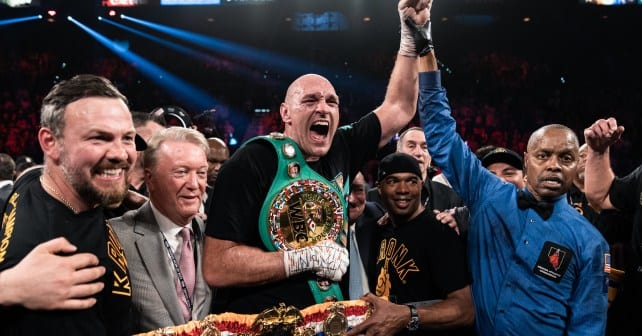 We might well have lost out on the much-hyped Tyson Fury vs. Anthony Joshua matchup (for now, at least) but according to John Fury, there is only one fight that makes sense next for his son: Joshua's conqueror Oleksandr Usyk.
Fury confirmed his status as heavyweight boxing's undisputed frontrunner when he earned a second successive stoppage finish against Deontay Wilder in Las Vegas late on Saturday night. It was a fight which brought a degree of closure to the Wilder-Fury rivalry, while also further cementing the hierarchy atop the heavyweight summit.
The hypothetical Fury-Joshua fight was seen by some as the sport's golden goose; a fight of two dominant British heavyweights which would serve as the first heavyweight unification fight in two decades.
But Joshua's conclusive defeat to Ukraine's Usyk scuppered those plans. But according to John Fury, Usyk has proved himself as the fighter who has earned the position of next man up.
"He's got to go for Usyk or nothing in my idea. It's Usyk next or nothing," Fury said to talkSPORT. "I wouldn't bother with the rest of them, they're not in Tyson's class.
"Would Dillian Whyte deal with Deontay Wilder? No. So why would you want to put him in with my son and get him knocked out? At the end of the day, he just got knocked out by a 42-year-old man (Alexander Povetkin) via a slap by the back of his hand.
'Tyson can't get up for them kind of fights. He wouldn't raise his game for that fight as he's not big enough. And then he goes in there with a lacklustre attitude and you don't see the best of Tyson. You only see the best of Tyson when he's against the best. A challenge like he had (against Wilder) and it was a great fight. For me, I told him: Usyk or don't bother."
The situation might well be complicated be reports that Joshua is exercising his rematch clause against Usyk, likely tying him up for the foreseeable future.
Comments
comments