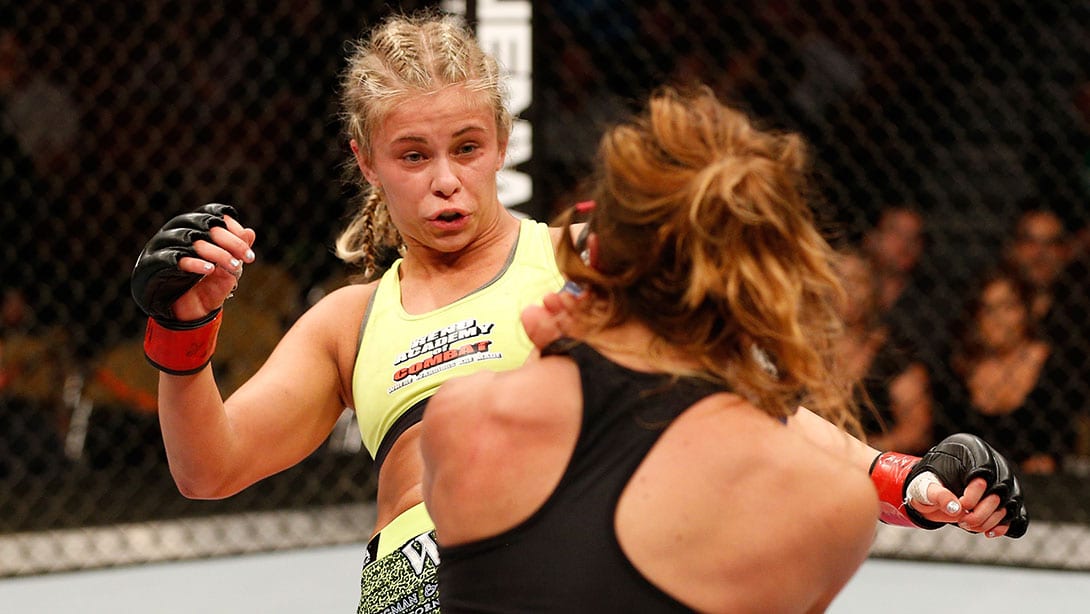 Paige VanZant isn't letting her defeat to Britain Hart in her Bare Knuckle Fighting Championship debut get her down. In fact, she says the experience has emboldened her to double down her efforts in the training room ahead of her sophomore effort in the upstart fight league.
VanZant was defeated by decision by pro boxer Hart last week in a fight which most observers say that she finally turned up the heat in the final round — and she says the learnings from inside the BKFC 'squared circle' will ready her further for the next time she toes the line.
"Definitely going into round five, I've definitely seen all the comments like 'that was actually Paige fighting.'' VanZant said on her Sirius XM radio show via MMA Fighting.
"That's how I normally fight, especially when I was fighting for the UFC," VanZant said. "It was a learning process. Every punch, it does feel different to get hit with a bare-knuckle versus a glove. It definitely didn't hurt worse because I've been kicked and kneed in the face so it was more like worrisome, especially since there was no big screen I could look up at.
View this post on Instagram
"Some of the punches I was like 'crap, that cut me open.' You can see me cuss like 'F word' because I thought one of the punches cut me open and I was so hesitant in the moment that I was getting cut open with these shots.
"It sucks," she added.  "It's unfortunate. I'm not happy that I lost ever, it's the biggest letdown in the world but I know it's not going to shake me. It's not going to define me. I know with my performance what I did wrong and I can go back and learn and get better and what an inspiration I hope to other people who are questioning if they belong in something or trying something new and have that question like 'what if I fail?'
"Yeah, what if you fail? It's fine. It's not a big deal. Failure happens everyday. It happens to some athletes on the biggest stages with the biggest audience and guess what? You go home to your family and you start over.
"It was a really big learning process throughout the fight. As the rounds went, I feel I was kind of finding my rhythm and finding my groove and kind of understanding what was working, what wasn't. Stepping into an entirely different sport really and not being able to fully train this sport unless you fight. You can't really box bare-knuckle in the gym. It was an adjustment period."
VanZant said in the aftermath of the fight that she briefly considered retirement from the fight game but having since put those thoughts behind her, she says that she will soon prove her worth to the BKFC promotion who offered her such a sizeable deal upon the expiration of her UFC contract.
"If I quit right now, that would make me a loser but if I press on and keep training and pick myself up, that's my inspiration story," she said.
And when might that come?
"I actually told my manager and told [BKFC President] Dave Feldman that I want to fight in April. I don't think it's going to take me long."

Comments
comments