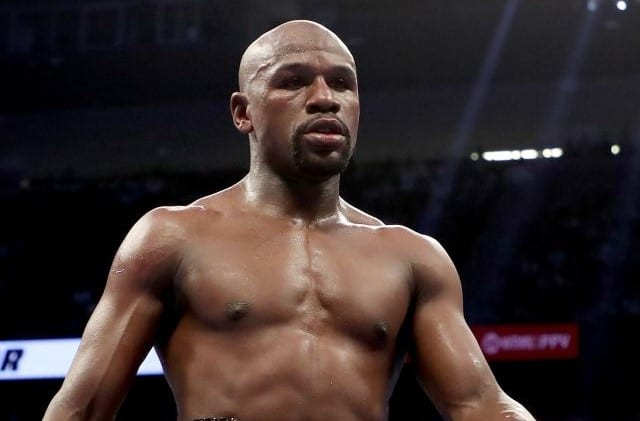 After months of speculation, stolen hats and press conference melees, Floyd Mayweather was unable to dispatch YouTuber Logan Paul after eight rounds of exhibition boxing in Miami late Sunday.
The fight was a slow one. Paul ended the first round with a flurry of winging hooks which backed up Mayweather but much of the rest of the bout was marked by slow action and repeated holding in the centre of the ring. Mayweather, who was the overwhelming favourite to score a knockout against the novice boxer but in the end the time elapsed with both men still standing.
"I wanted to give the people a show, and he was fighting to survive, as you guys could see," Mayweather said after the fight. "Every time he would punch, he would clinch. He was the bigger guy, and a little awkward. But his background was in wrestling, so he was good at tying me up. A guy that came in over 200 and some pounds. I came in at 155, but no excuses. I had fun tonight."
Speaking afterward, Paul said that he was delighted with the result and took pride in the fact that Mayweather wasn't able to get him out of there during the fight — but this is an assertion that Mayweather disagrees with.
"He's entitled to feel how he wants to feel," Mayweather said. "A guy that's retired like myself trains a few days a week. I'm not training every day for this. For me to be retired, be a grandfather, and to come have some fun with a guy that's in his 20s, when the money comes, we'll see who's the real winner. Because at the end of the day, I'm going into the Hall of Fame for boxing, and I have nothing to prove.
"If they're happy with holding eight rounds, dancing and grappling for eight rounds, congratulations," he continued. "One thing about me, I don't go back and forth, because we went out there and did what we had to do, and that's what it is.
"There's nothing really I could do," he said. "As you guys could see, he was putting his leg on the rope. He was fatigued. He's a great grappler. But I've been in this sport for so long, and tonight was letting the people see that I'm able to come out at my age, at 44, and sell out 30,000 and still do crazy numbers to where I can make Showtime crash. So I'm truly blessed, and I'm not here to bash anyone. Of course, at my age, I'm not going to perform like when I was 19. I'm not supposed to. It's all about growth and aging.
"Is my hair going to be all black forever? Absolutely not. When I get old, it's going to turn all grey. I understand that. That's a part of life. Am I going to be able to fight like I fought Diego Corrales and Arturo Gatti? Absolutely not, and I understand that."
Comments
comments