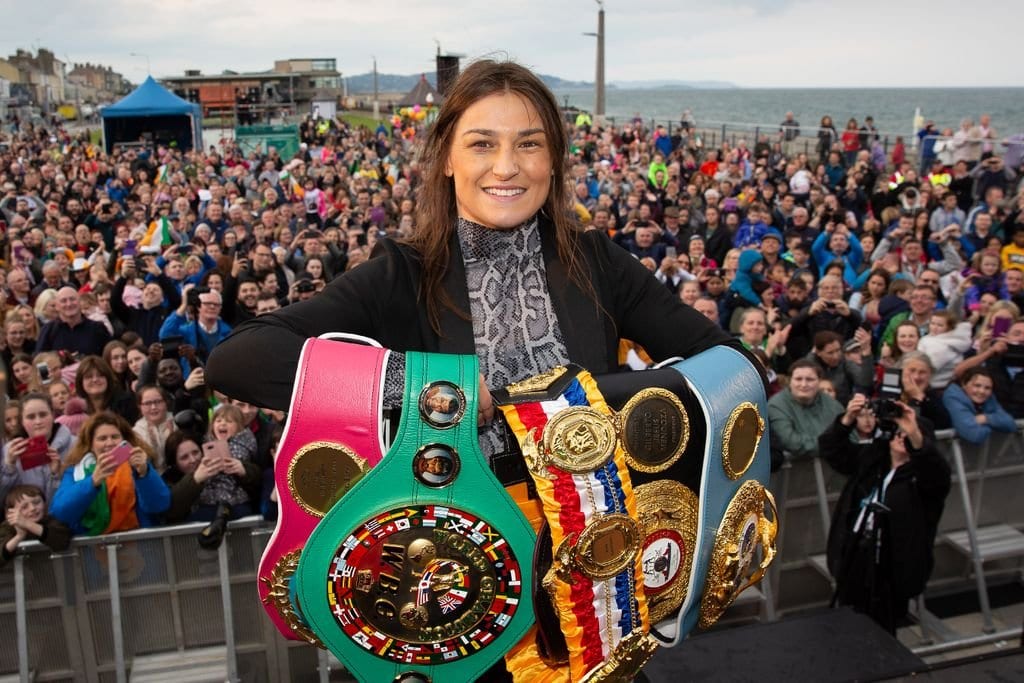 Katie Taylor has spent a career, both amateur and professional, taking on fighters at the absolute top of their games and expects something similar from Jennifer Han in her latest world title defence in Leeds this Saturday. 
The Bray woman will enter the ring in front of 20,000 fans this weekend as a huge favourite to collect what would be her 19th professional win in a fight which will be the biggest audience to watch a live boxing event in the UK since before the pandemic, and while the oddsmakers have all come out heavily in Taylor's favour ahead of the bout, she says that she isn't taking the challenge lightly.
"This is a huge fight for both of us, I don't overlook anyone," Taylor announced on Thursday at the pre-fight presser.
"I can't afford to get complacent, in any of my fights. If you start to get complacent, that's when you start losing. I have prepared for this like I would any other, I'm expecting a tough challenge Saturday and I'm prepared for that.
"For all my fights, I always expect my opponents to bring their very best. Better than they've ever performed before. I think she's a very good fighter, very technical with a good amateur background. So I'm ready.

"It is unbelievable to be here, this is the first fight in a long time where I've fought in front of a live crowd, and the fact that it's here in Leeds is great. Some of my best memories as a kid involve visiting this city, going to Leeds United games in Elland Road as a fan. The city obviously has a special place in my heart. I never thought I'd actually have a chance to fight here, so I'm just so excited about that.
"I feel great, I know I can't do this forever but I still feel very, very fresh right now. I still have plenty more years left in the ring. This training camp has gone well, I feel sharp and strong. I can't wait to produce one of my best performances."
Han, who is 18-3-1 as a pro, forecasts that she will present a formidable challenge to Taylor and bring something to the ring that her previous opponents were unable to.
"She has amazing strengths, an Olympic gold medalist, undisputed world champion, she's beaten a lot of talented fighters, but they are not the same as me," she said of Taylor.
"I'm not going to take anything away from her, but she's beatable. Believe me, my camp and I are studying her inside and out. We have plenty of strategies."
Taylor — and Irish boxing fans — have heard that line before, but it will be up to Han to provide the type of challenge that the majority of Taylor's past opponents have been unable to.
You watch Katie Taylor vs. Jennifer Han via DAZN by clicking the banner above, or this link. The undercard is set to begin at 7pm UK time, with Taylor expected to fight at approximately 8.30pm. </em
Comments
comments