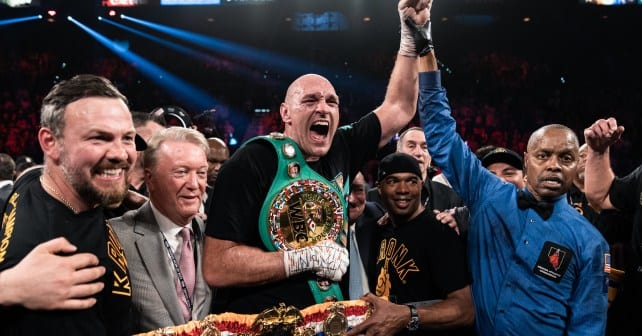 Simply put, Tyson Fury did exactly what he said he would do when the opening bell sounded in Las Vegas against Deontay Wilder.
The 6ft 9in Brit bounded across the ring immediately upon commencement of the fight and set into a strategy designed to put the explosive puncher on his heels throughout the fight, all while aggressively seeking opportunities of his own to land clubbing blows with every ounce of his 272-pound frame.
It was a strategy designed in the Fury camp to apply "educated pressure" to a fighter who is so often used to setting the pace and dictating the momentum of a fight, former WBO middleweight champion (and coach to Tyson Fury) Andy Lee.
"Perfect. A devastating and perfect performance," Lee said of Fury's performance to RTE. "He had a game plan and he executed it perfectly. He wanted to keep pressure on Wilder – but, educated pressure where whenever he [Wilder] attacks, quick step back and then straight back to him. Just keep breaking him down mentally."
View this post on Instagram

One of my favourite pics. This will go on my wall at home. @bodypuncher
With the gameplan being established very early in the fight, Lee said that he saw it paying dividends almost immediately. The fight, in effect, was over.
"After the third or fourth round, I knew," Lee said. "He took those two right hands in the first round and he took them like they were nothing – I think that broke Wilder's heart slightly. Tyson kept progressing, progressing, progressing – wearing him down physically. A great performance."
The end of the fight came in the seventh when a member of Wilder's corner threw in the towel, much to the displeasure of the fighter and other members of the coaching staff but this is a moot point, Lee said, as the fight was moments away from being stopped either way.
"He eventually was pulled out with the towel coming in, but the referee was about to come in any moment," Lee suggested. "It was a systematic breakdown, wasn't it."
And, perhaps worryingly for Wilder should he exercise the rematch clause in his contract, or if Anthony Joshua ends up being next, the best is yet to come for 'The Gypsy King'.
"Tyson is still on the ascent, he's only going to improve, he's not even peaked yet. He had eight weeks with me and Sugar [Lee's fellow trainer Javan 'Sugar Hill' Steward]. Imagine if he had six months? What are you going to see? You're going to see a 6-foot-9 Thomas Hearns!
"He imposed himself. If you fight someone and you're side-on, it's so inviting. Your opponent is going to be aggressive because you look defensive.
"But if you're standing in front of him like this [head on], you look more threatening, you're imposing. It's not as enticing for him to attack you. Even though you might just be resting there, you look like you're posing a threat. That was a big part of our plan too."
Comments
comments