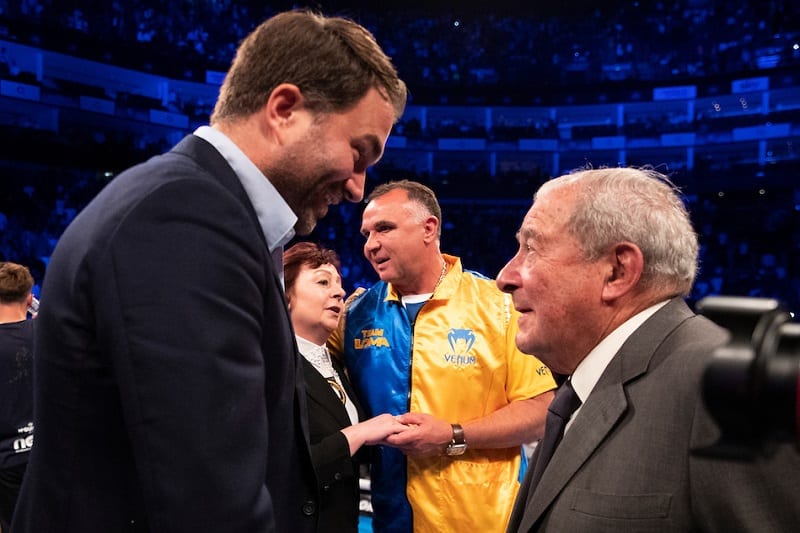 Eddie Hearn has disregarded Bob Arum's irritation over his decision to make a purse bid for the Teofimo Lopez fight.
Yesterday, Triller beat out both Hearn and Arum to win the rights to the contest, but had they not entered into the fray, Hearn would have walked away victorious — something Arum was infuriated by. For Hearn, however, Arum's grievance is nonsense and brought upon himself.
"They let it get to this," Hearn said, speaking to BoxingScene.com. "Teofimo Lopez took the chance for small money to fight Lomachenko because he believed he would win and he believed he would get the financial rewards he deserved. But guess what? When he won, they wouldn't give it to him. And this whole problem has been caused by Top Rank.
"You know, Bob's been out there, 'Oh, Eddie Hearn, I'm fucking pissed off that he's bid and he's gotta watch himself now.' Fuck off! It's an open market. If you can't do a deal with your fighter, and that comes into the open market, you pay the consequences. And the consequences is someone else has popped up from nowhere and taken one of your biggest assets on your platform, for ESPN, and put it on another platform. It's a disaster for Top Rank."
On top of that, Hearn said he'd let Arum know well in advance he planned on putting in a purse bid, and said part of his motivation for doing so was Arum's attitude in the lead-up.
"I told him I'd bid," Hearn said. "You know why? Because they tried to put the fear into people not to bid, and that's not [acceptable]. Once you do that, all bets are off. If you would've come to me, sat down – but what you're doing is you're taking opportunities away from your client. So, you want no one to bid so you can get your guy cheap? Is that what you want?
"It doesn't work like that. We had an opportunity to bring one of the biggest names in the sport to our platform in the open market. Don't tell us what we can and can't do. But it's irrelevant anyway."
Comments
comments