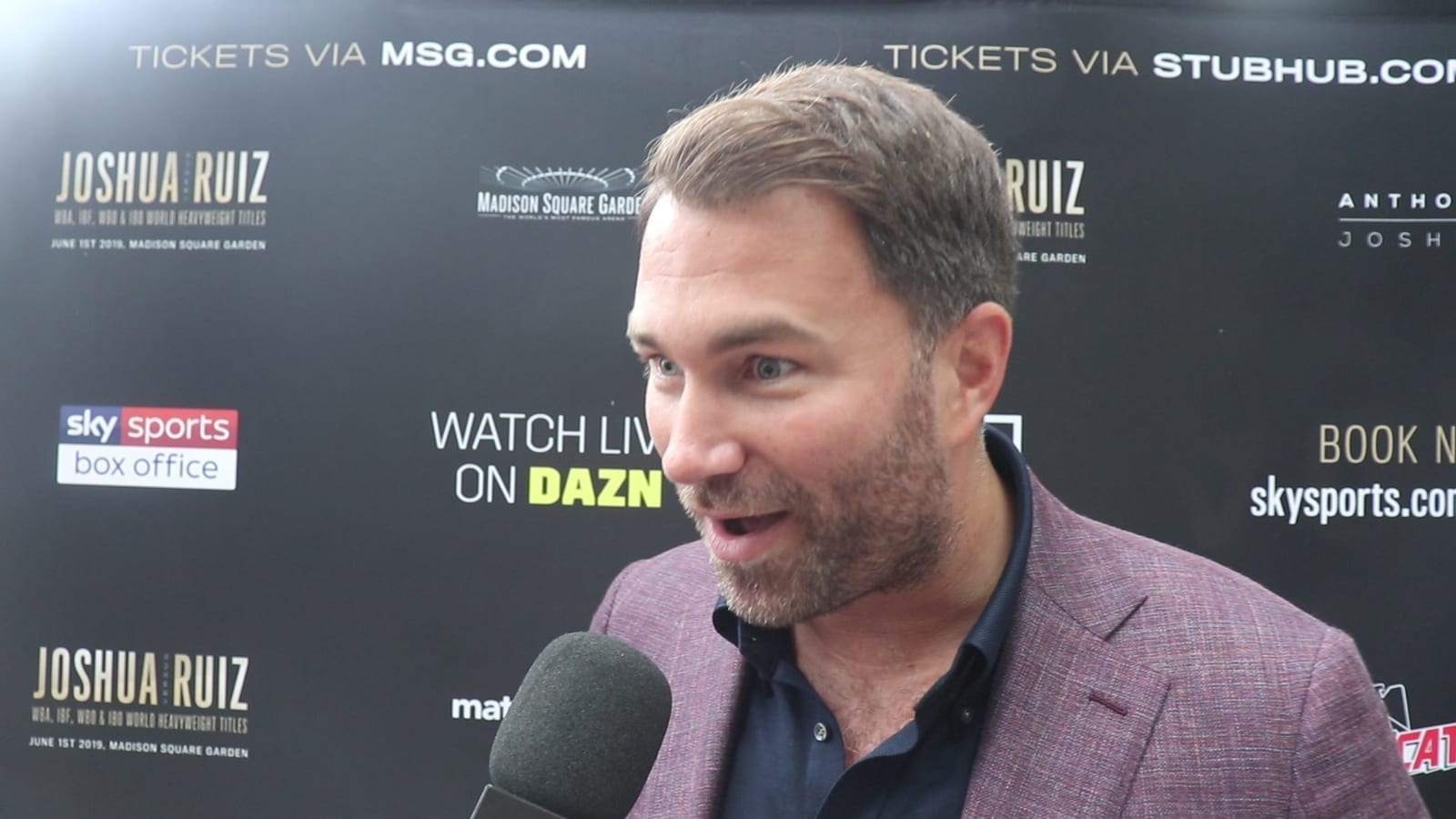 At this point, it's safe to say Eddie Hearn isn't on the Christmas card list of many of his fellow boxing promoters.
The Matchroom honcho, who promotes Anthony Joshua, has been the subject of plenty of ire from the likes of Bob Arum, Leonard Ellerbe and Oscar De La Hoya over the past few months, particularly since his recent entering the U.S. market with the streaming service DAZN.
All three of his aforementioned peers have accused Hearn of speaking too freely about fighters he doesn't have under contract, with Arum recently going as far as threatening him with a lawsuit should he continue to mention Vasyl Lomachenko in interviews.
But despite Arum's assertions that Hearn knows "shit about boxing," Hearn refuses to be rattled. Indeed, it seems more likely the Englishman is enjoying the back and forth.
"Bob is double slippery," Hearn said, speaking with IFLTV. "He's a little bit.. two faced is the wrong word, but you saw him in London [being friendly with me] and then the next thing [he's criticising me] … the main problem with Bob is the funny fags are driving him loopy, so he's just all over the place. These old school promoters are quite funny.
"They've got no game, they've got no banter, they've got nothing at all. You can't pipe up and slag another man off, and let me come back and have a little go and then say, 'I'm gonna sue him for torturous interference'. What, for making you an offer for my guy who's mandatory against your guy? They're crazy. During the week their face goes redder and redder and redder as the blood pressure boils and boils and boils. Just relax. Just relax and play the game."
It's not just Arum's criticism who Hearn is brushing off. When asked about his relationship with Ellerbe, Hearn made it quite clear he isn't fazed by anything the American's said about him.
"Let me put Leonard Ellerbe's relevance into context," Hearn said. "I've got more followers on my parody account, No Context Hearn, than Leonard Ellerbe has in total. He's on there all day. Hearn this, Hearn that, likes a tweet. Mate have a day off, do some work, polish your shoes — because you know he's got them crocodile shoes, he likes them to be nice and shiny — relax mate. What's the matter with you, Leonard?
"Irrelevent. Boring. Old. Yesterday's news. Out the way, excuse me, we're coming in."
Comments
comments