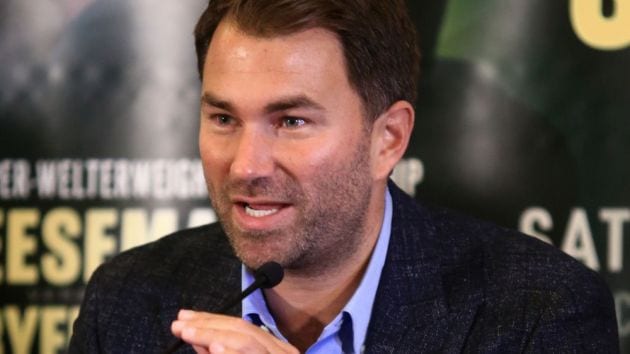 Eddie Hearn believes a prolonged period of sporting postponements could see currently scheduled contests being rearranged.
In the current landscape of heavyweight boxing, for instance, Anthony Joshua is meant to meet Kubrat Pulev in June while rivals Deontay Wilder and Tyson Fury are meant to rematch in July with the idea being two winners could meet in December.
If, however, the coronavirus continues to force live events to be pushed back, Hearn believes those involved will have to start examining the booked bouts and consider alternatives.
"Well I think, all of a sudden, does the Joshua-Fury fight start taking priority, maybe over a Pulev fight, if the Pulev fight extends beyond the summer. There's so much that could happen right now," Hearn said, speaking to Sky Sports.
"I mean anything is possible, but contractually Deontay Wilder is going to want his fight next, whether that's in July or whether there's a force majeure that takes that to October, November wherever. Right now, for us, we're fighting Kubrat Pulev, June 20, and it could be July 25, but everything is uncertain at the moment, whilst the country and the world tries to contain this pandemic."
At the moment, Hearn is doing his best to keep fights on their chosen dates, but as with everyone in combat sports, he's having to react to an ever-changing landscape.
"May is going ahead, but we also understand that we have contingencies in place to move Dillian Whyte to the middle of June, to move Derek Chisora-Usyk back into the end of June, early July, and of course Anthony Joshua, who was due to go June 20, at Tottenham Hotspur football club," Hearn said.
"Really relies on the run of the Premier League now, because if the Premier League extend their season, Spurs will need their stadium. We already have a reserve date that we're discussing with Spurs of July 25 for Anthony Joshua against Kubrat Pulev at Tottenham Hotspur Stadium."
Comments
comments