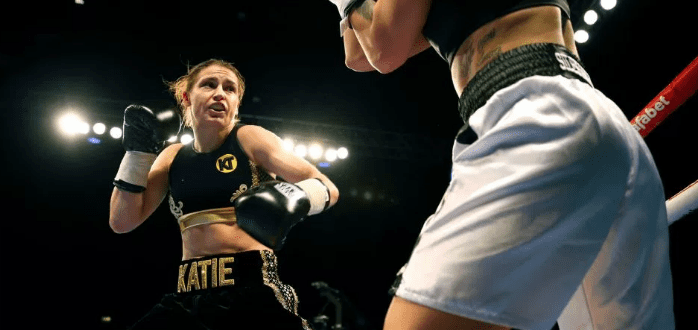 A rematch of the biggest women's boxing match in history is on the back-burner after Eddie Hearn confirmed that it is likely that Katie Taylor's next opponent might be slightly out of left-field.
The late April date between Taylor and fellow pound-for-pound great Amanda Serrano more than lived up to the hype though 12 furious rounds of nail-biting action inside Madison Square Garden. So successful was it that both camps initially suggested that a rematch would make most sense for both fighters next — but that was before Taylor's promoter Eddie Hearn revealed that Serrano's camp had expressed hesitancy in an immediate rematch.
Serrano will instead fight on August 6 on the (supposed) Jake Paul vs. Tommy Fury fight card in Madison Square Garden, leaving Taylor to seek alternate avenues.
It has been heavily suggested that Taylor's team are looking towards one of two MMA stars for their next challenge, Cris Cyborg or Holly Holm, and speaking to Ariel Helwani on The MMA Hour this week Hearn stated that both are very realistic possibilities.
"There's two fights that I find really interesting — one is Holly Holm and one is Cris Cyborg," said Hearn, via MMA Fighting.
"Holly Holm is a very good boxer. Cyborg can also box, has great power, doesn't quite have the boxing résumé of Holly Holm, but they're big crossover fights.
"I think Holly Holm has a fight left with the UFC, which would make that difficult to do. Cyborg I think has a Bellator agreement, but it doesn't cross over into boxing. So just some friendly chats – she was at the show at Madison Square Garden — but no real negotiations.
"But definitely a fight that I would be interested in for a number of different reasons. Something different and fun. You get to Katie Taylor's stage in her career and you start looking at other fights and it's like, what can you do now? So it's like, is it Holly Holm in Vegas or Cyborg in Vegas, or something in Dublin?"
It has also been suggested that Taylor's next fight will come some time in the Autumn ahead of a Spring rematch with Serrano — with Hearn still said to be angling for Katie Taylor to fight in front of 80,000 spectators at Croke Park in Dublin.
Comments
comments