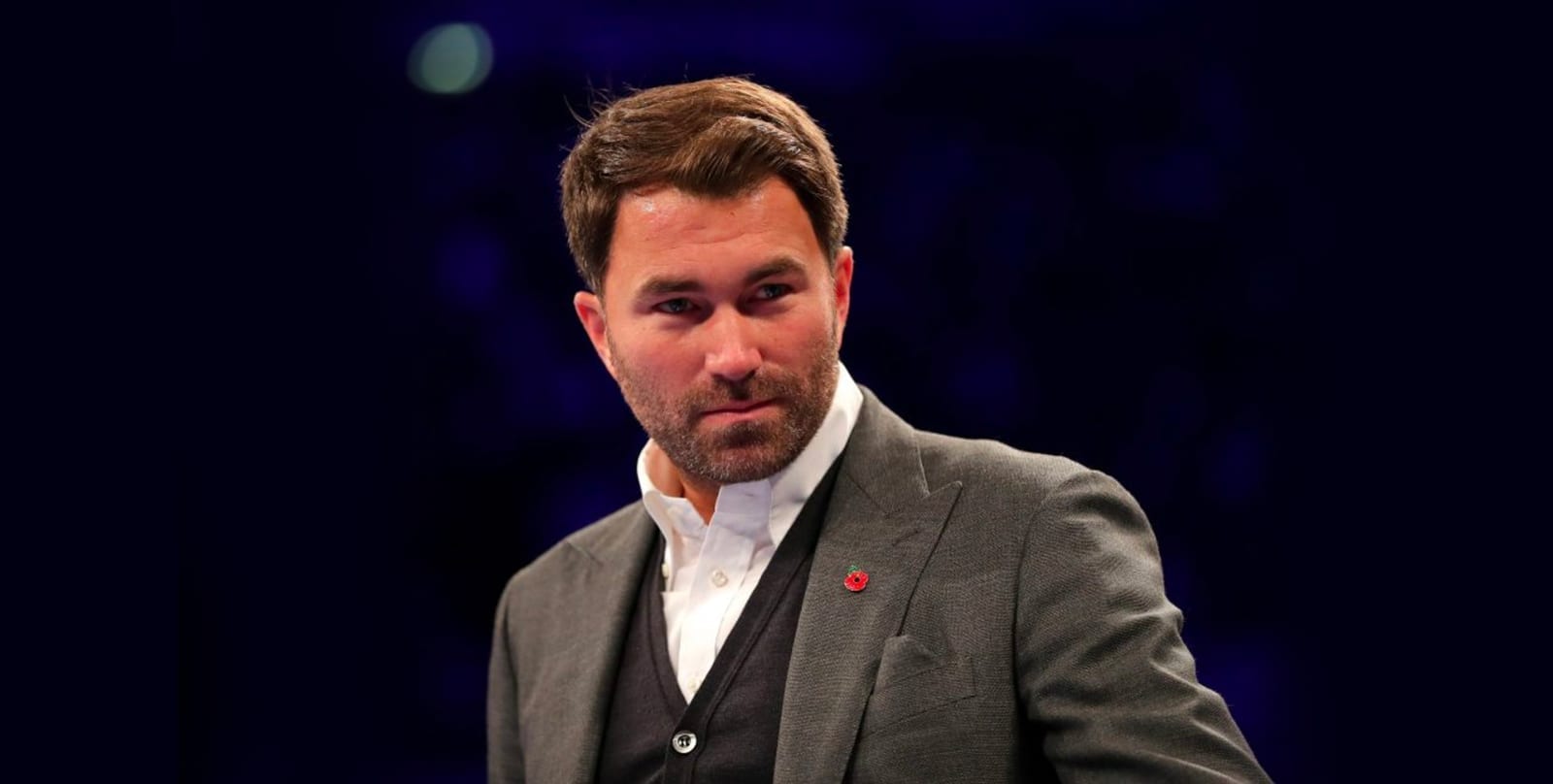 Eddie Hearn says there isn't much more you can do with the coronavirus than follow the advice of experts and find success where you can.
Hearn, just like anyone who works in sports, has found his business in uncertain times as the COVID-19 epidemic continues to spread worldwide, causing governments to step in and bring a halt to public gatherings.
For Hearn, who's previously said he would rather postpone boxing matches than hold them in empty arenas, it's a challenge that he believes will require people's grit to get through.
"We talk about fights being cancelled, but there's something a lot deeper than this," Hearn said, speaking with iFLTV. "There's people's health, and also the economy. These are the times where you get tested. It doesn't matter whether it's me or you or someone in the city or someone working a temporary job — it's gonna be testing times for all of us.
"You got to roll up your sleeves, you got to work a little bit harder, you got to be positive and you got to go on the attack on the front foot. Because if you don't you're going to get beaten up, swallowed up and spat out. Now is the time to think smart, think on your feet. It doesn't matter what you're doing. That's what we've been trying to do for the last few days."

Hearn has a number of shows booked on the calendar, not least a world heavyweight title fight between Anthony Joshua and Kubrat Pulev. As of right now, similarly to the UFC, he's yet to cancel a booking.
"We have to be led by the experts, and that's what we're doing," Hearn said. "Right now, we don't have one show that's cancelled. I'm sure, particularly in the short term, that may well change. But what can you other than crack on? Go to work, put the time in, put the hours in, put the effort in and give what god gives you."
Despite his obvious desire to keep his shows on as currently planned, Hearn says there's more to it than just his own convenience. While athletes in other sports might get pay regularly, fighters get paid for fighting, and to completely cancel everything could devastate those trying to earn a wage.
"All we can tell fight fans is if you've brought a ticket for [any of our events], you'll get a full refund if it's cancelled and we will make sure we will act in a way that's in the interest of, of course the fans and the public, but also in our fighters.
"Because as you know, this is a sport where you don't get paid everyday. You don't get paid weekly. You get paid when you fight. A lot of these guys have been training for 8, 9, 10 weeks. It doesn't just mean we'll just do it, by the way, but of course when we can give them the opportunities — and that may come in an environment behind closed doors, it's something we have to look at over time.
"It's definitely not a preference of mine, but what are you going to do, have a period of 3 months where fighters just can't fight? Can't earn their money? Can't provide for their families? It's very difficult. It's going to be difficult across the board, in all shapes of life, in everything."
Comments
comments