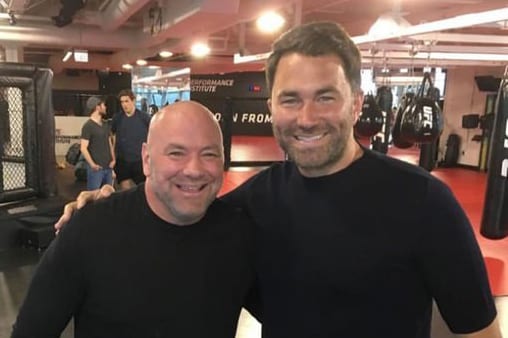 Dana White's intentions of getting into the world of boxing are on hold, at least for now.
White had planned on announcing to the world his scheme to 'save' the sport last October, but as the UFC president has admitted on multiple occasions, the world of pugilism was a lot harder to navigate than he had anticipated.
Once the coronavirus pandemic hit, White had to move his vision of Zuffa Boxing to one side and return his focus to the UFC to make sure his main business could survive a crisis that is currently decimating all of sports.
In White's eyes, however, Covid-19 and the struggles that come with it may just end up flushing some of the deadwood out of boxing and leave the landscape far different than it was a few months ago.
"When this pandemic is over, the strongest will survive in this thing, and I don't know who it's going to be," White said, speaking to The Athletic. "Al Haymon is a brilliant guy. I like Al a lot. … But the guy who to me is in a position of serious strength right now is Eddie Hearn.
"Eddie Hearn has some of the top guys in the world putting on these big heavyweight fights. And I think Eddie Hearn's doing it right. When Eddie Hearn puts on a fight, Eddie Hearn actually makes money. A lot of these other guys aren't making money."
"He's even a lot more level-headed than I am," White continued. "I can get crazy sometimes and snap and flip out. … This guy's level headed, I actually like his style. He doesn't really fight with anybody, he isn't afraid to — in this business, everybody hates everybody. And listen, I'm not pointing the finger at all these other guys, I accuse myself of the same thing. We all hate each other, we're always talking shit about each other, fighting each other and all this other stuff.
"Eddie Hearn doesn't play that game. He's a pretty smooth dude. Level headed, and it looks like he's running a good business."
In some ways, Hearn represents a new school of promoter and has readily admitted on multiple occasions he "has stolen" from the UFC in terms of production and presentation. Last year, the Englishmen met with White at the UFC's Performance Institute in Las Vegas and the two apparently formed a relationship, with Hearn revealing on his podcast Monday he'd been in contact with White before and after UFC 249.
"You listen to Bob Arum, 'he couldn't last a day in boxing' and all this shit," White said. "Oh, you can last 70 years? And I couldn't last a fucking day? You fucking dickhead. I have a lot of ideas.
"With this pandemic that just happened and all this stuff that's going on, things have changed a lot, and I really need to focus on my business, but (boxing) can be fixed, and Eddie Hearn might be the guy to do it."
Comments
comments