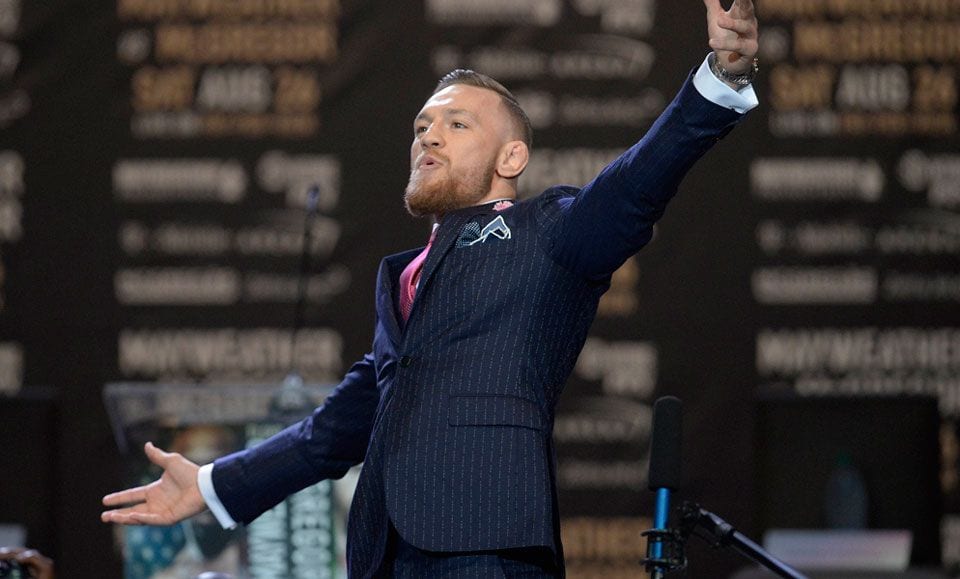 During a press conference in Moscow this morning, the Irishman revealed he's set to return on January 18, although the opponent was not quite yet finalised.
McGregor has been out of action since his contest with Khabib Nurmagomedov at UFC 229, the biggest fight in mixed martial arts history. While there were reports of him returning this Summer, McGregor was forced out of action with a hand injury. He made it clear earlier this week that he's been excited about competing once again.
Speaking at a media event on Tuesday, McGregor said that once he's able to get back into the Octagon, he'll make sure it will kick off a much busier 12 months fighting than he's the past two years.
"I would like to announce the return of the notorious Conor McGregor will take place on January 18 in the T-Mobile Arena in Las Vegas, Nevada," McGregor said. "That is my comeback fight. It's 12 weeks from today. I'm in prime physical condition. I have agreed the date with the [UFC]. As far as the opponent, I have the opponent's name, but for me, the game I am in and from experience, if I was to give you people the name, which I would love to do, the UFC would flip it. Because they're a crafty company.
"So for me, here's this one. Ask the UFC who the opponent is, because I do not give a fuck. January 18, the return of the notorious Conor McGregor at the T-Mobile arena in Las Vegas, Nevada. That will be the beginning of my season. I will then look to compete against the winner of Nate Diaz – Jorge Masvidal for the bad motherfucker title. Obviously I have history with Nate Diaz, we are set to make the trilogy bout, so we will see how that goes.
"Then I will seek [a] Moscow bout and it will be against the winner of Tony Ferguson – Khabib Nurmagomedov … that is the bout we want. We want this bout in Moscow."
McGregor went on to stamp home why he believes his second contest with the Russian, perhaps his biggest rival the sport, will be different. In a word, preparation.
"The people of the world deserve this bout to take place. It is an inevitible rematch. It is a rematch that I will come in sharp, fresh, I will have no injuries, I will have no alcohol, I will have no outside influences, I will be fully focused — exactly what the people deserve. Exactly what the fans deserve, and we will settle it once for all."
And if you had any doubts on the intentions going forward:
"Like I said, January 18. The return of a fully focused notorious Conor McGregor in Las Vegas, Nevada. Ask the UFC who the opponent is, because I do not give a fuck. I am going to go through the entire roster like a chainsaw through butter. Make no mistake about that."
Comments
comments