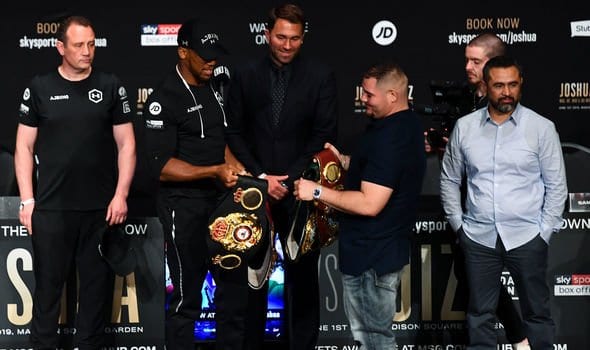 Last May, days out from what was thought to be a run-of-the-mill defence of his heavyweight titles against Andy Ruiz, Anthony Joshua came under fire from some sections of the media for allowing the challenger to hold his world title belts in a press engagement prior to their fight.
In terms of omens, it wasn't the best look for the then-undefeated world champion. Shortly after, on June 1, Joshua was defeated in the seventh round after hitting the canvas no less than four times. The belts were soon pictured with Ruiz once more, though this time it was for real.
It was a mistake, Joshua admits. "In hindsight, I would probably tell my fighter, as a psychological thing: 'don't give them away'," he said.
View this post on Instagram
This time Joshua comes into the fight in the same position which Ruiz found himself in last summer and, with a nod to his 'mistake' he says he intends to get a hold of those world titles in the lead-in to the fight.
"Yes, why not," he said. "They are heavy – that's why I gave them to him, last time. But I haven't had them around me for the past six months so yes, I would definitely take them to see what I'm about to have in my possession. I would shake his hand, we're going to fight anyway. Sportsmanship… but come that first bell, I'll take his head off."
Both men have been in Riyadh for several days now but Joshua says that he hasn't seen much of the champion yet.
"I wanted to see him, I wanted to shake his hand, but I guess he didn't want to see me," Joshua said to Sky Sports.
No matter, save it for this weekend.
Comments
comments