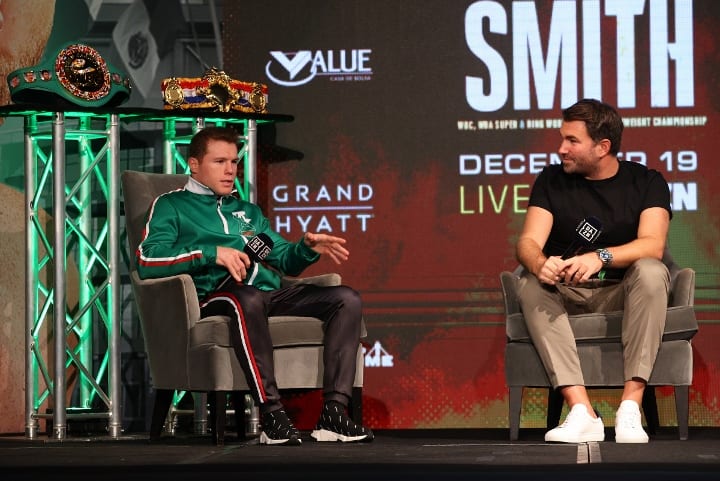 Canelo Alvarez left Oscar De La Hoya's Goldenboy Promotions in a haze of legal action, frustration and a clear irritation for the promoters in boxing.
It seems he's already starting to come around.
Since his leaving of Goldenboy, Alvarez has begun working with Matchroom Boxing's Eddie Hearn, fighting his last two opponents alongside Hearn, with his upcoming bout with Billy Joe Saunders being the same arrangement. And judging by the comments each man has for the other, the pair are savouring every minute of the new partnership.
"The idea is to continue to work with Eddie Hearn for a very long time. He is the best promoter in the world, by far," said Alvarez to TV Azteca (H/T to BoxingScene.com). "I love working with him because he is a promoter who cares about even the little details, which makes everything much better. He never has a problem with his fighters and he listens to the wishes of his fighters. It is great to finally work with this type of promoter. It is true we signed a two-fight deal, for February and May [vs. Avni Yildirim and Billy Joe Saunders]. I like this way of working, and Eddie is happy to continue with this too [to work on one and two-flight deals].
"We have discussed the idea of fighting in December too, and in May 2022. Yes, the idea [Reynoso and I] have is to keep working with Eddie for my fights and also with the other fighters on our [Canelo Team — such as Julio Cesar Martinez and Hiroto Kyoguchi] for many years."
Comments
comments