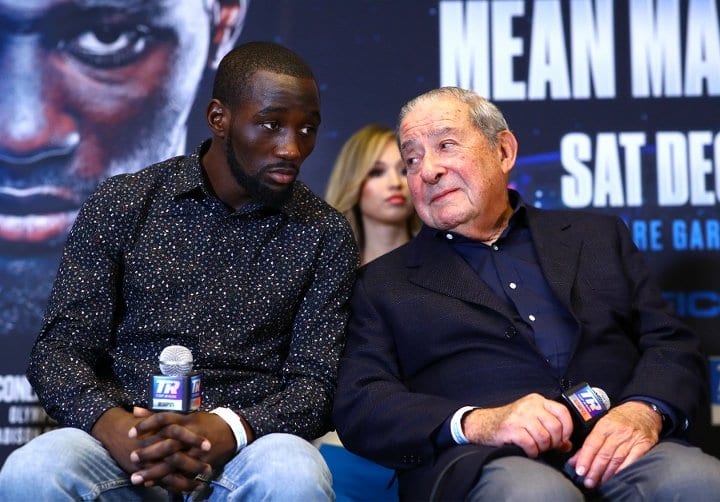 Conor McGregor walked out of UFC 246 with as many options as he's ever had.
McGregor finds himself linked with a plethora of potential opponents linked to him, with names like Jorge Masvidal, Justin Gaethje and Nate Diaz all apparent choices inside mixed martial arts — and names like Floyd Mayweather and Manny Pacquiao possibly available in boxing.
Should boxing promoter Bob Arum get his way, however, there would be another name added to the list. Speaking to ESPN, Arum proposed a two-fight deal between McGregor and fighter Terence Crawford, with one fight under boxing rules and one fight under MMA rules.
They even would be open to the first fight being inside the Octagon.
"You've got an elite boxer in Terence Crawford fighting an elite MMA guy in Conor McGregor under MMA rules," Arum told ESPN on Wednesday. "You don't think that would be interesting and something the public would want to see? I think it's very realistic.
"Whenever they are ready, we are ready. We'd do the MMA fight first if that's what they want."
In Crawford's eyes, past experience with wrestling would give him a decent base on which to work with.
"I'm a fighter first. As a fighter, I would entertain it," Crawford told ESPN. "I just have to have the proper time to prepare myself. It would be a little more than boxing training. I haven't been in that [wrestling] environment in a long time, but most definitely I feel I can compete with anyone given the proper time to train on the MMA side, being that I have a wrestling background.
"McGregor would have to worry about my stand-up game as well. It would be interesting. He's got good kicks and he's strong. I'd have to prepare myself for those things, but I feel I would be all right."
Comments
comments