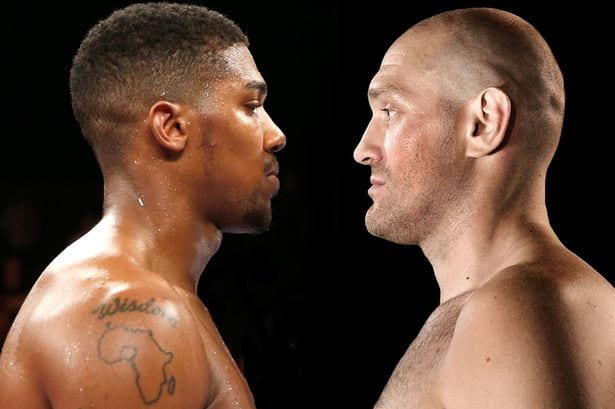 Promoter Bob Arum says that there is a realistic path for a heavyweight showdown between Anthony Joshua and Tyson Fury next year, even suggesting that the fight could take place instead of Fury's proposed trilogy bout with Deontay Wilder.
Fury and Wilder were slated to fight for a third time over the summer but the onset of the coronavirus pandemic put a spanner in the works of those plans, first being postponed to October and then December. Eventually, Fury walked away from the fight in favour of a mandatory defence of his WBC crown against undefeated German Agit Kabayel.
Wilder's camp, meanwhile, still want the third fight with Fury to be next on their plate but Top Rank CEO Bob Arum, who promotes Fury in the United States, says that a path could be cleared for his fighter to take on Joshua next year — provided they both get past their next opponents.
"Then I'm sure Fury will want to go right to a Joshua fight," Arum told iFL TV of the heavyweight landscape if Joshua beats his December opponent, Kubrat Pulev.
"And then there's a rematch… so that knocks Wilder out, and then the Wilder people will be in arbitration with Fury and ourselves trying to interpret the contract to say that Fury is still obligated to fight Wilder. But I assure you that's not the case, the contract is clear. But do they have the right to bring this to arbitration? Yes."
View this post on Instagram
Arum emphasised, though, that he believes Joshua will have a tough time with Pulev, who is another of Arum's fighters.
"I've given everybody the word — wait for the Pulev-Joshua," Arum said. "If Pulev wins there's no Joshua because then he has a rematch with Pulev, so that takes care of a good part of next year for Joshua.
"So that leaves Wilder as the best guy. So if Pulev beats Joshua, we'll talk to Fury about doing the Wilder fight probably the end of February. By the end of February hopefully the pandemic will be under control and we'll be able to put the fight in Allegiant Stadium, this magnificent, huge stadium [in Nevada] and do it for 15,000 or 20,000 people.
"It's well and good for Fury to say 'I want to fight Joshua', but who knows if Joshua's going to be around after he fights my guy Pulev?"
Comments
comments