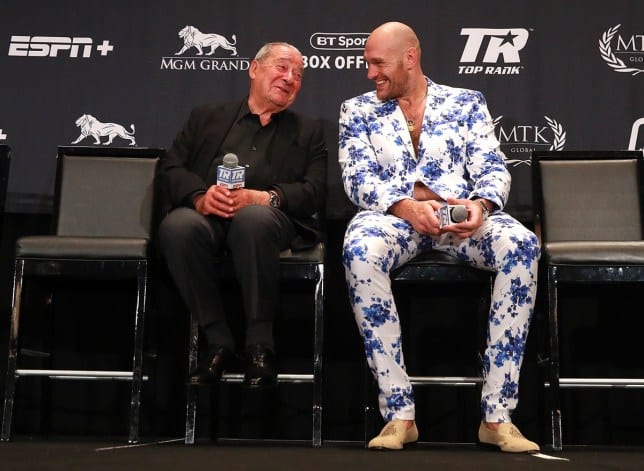 Bob Arum says Deontay Wilder has no real legal right to a third fight with Tyson Fury and the issue will be dealt with before too long.
Wilder's team has taken Fury & co to an arbitrator to judge whether or not the infamous rematch clause is still in effect, or if it legitimately expired over a month ago as Fury claims.
"It's one thing to bring a claim and it's a second thing to be successful. I believe that Wilder has no rights any longer for a third fight and therefore his claim will be denied. But I can't stop them from thinking otherwise and taking it to litigation," Arum said, speaking to the Betway Insider blog.
"The contract says Wilder's rights ran out at the end of October and I really believe that contract displays clearly that Wilder does not have a claim for a third fight. Wilder had some surgery but that was taken care of in the contract, a 90-day delay from the date of the proposed rematch in July — and that has ran out. But I think we'll have a resolution on December 12. If Joshua is beaten and is then unavailable, I'll have a talk with Tyson as to whether he wants to pursue a fight with Wilder."
A fight between Joshua and Fury is one of the most desired to be seen in boxing, and many feel the Wilder bout would be an unnecessary roadblock. In Arum's mind, it comes down to Pulev's performance against Joshua next weekend.
"It's all on hold, we are going to see what happens with Pulev," Arum said. "If Pulev beats Joshua there's no Joshua fight for Tyson Fury because Joshua has a rematch clause. At that point, Fury is out there looking for opponents and I'd think the best available opponent would be Wilder.
"But it's up to Fury to decide. Wilder has said some weird, Trumpian things that make no sense – he sounded like Donald Trump! Fury took offence and rightly so. If Joshua is not available, Fury will have to decide whether to overlook his remarks and go with a Wilder fight – that's up to Tyson Fury."
Comments
comments