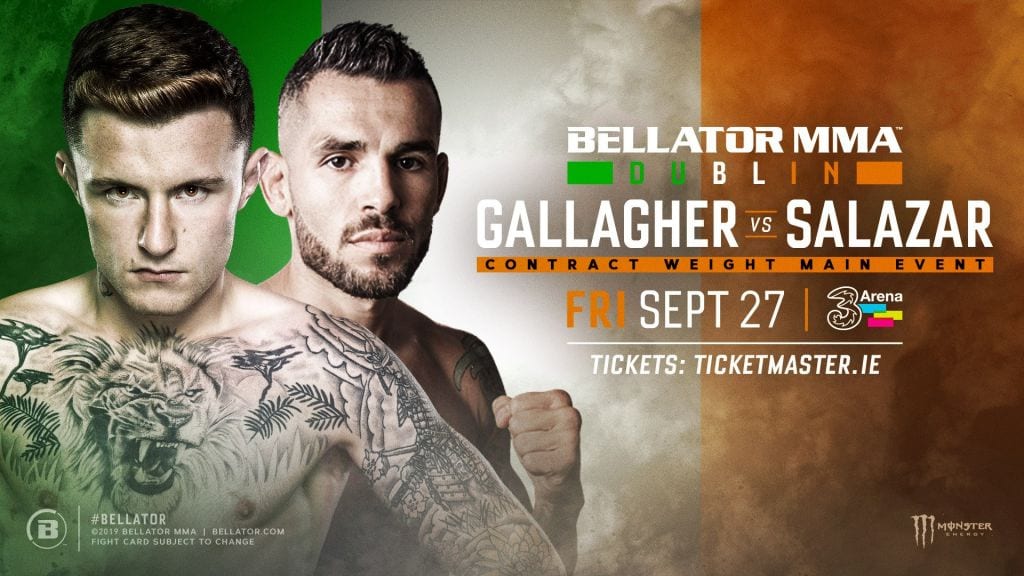 The biggest mixed martial arts card to have taken place on the island of Ireland in the last five years is just hours away.
Bellator Dublin (and Bellator 227) is a double-headed event featuring some of the biggest names in Irish and UK mixed martial arts, mixed in with some top class competitors from the United States — including the Irish debut of former UFC lightweight champion Benson Henderson.
James Gallagher, now a bona-fide star in his home country, tops the card when he faces the experienced UFC veteran Roman Salazar while a selection of Ireland's finest fighters including Peter Queally, Kiefer Crosbie, Richard Kiely and many others will also compete, when he takes on the UK's sensational striker (and global MMA star) Michael 'Venom' Page.
The card is a top one, but how exactly can you watch it?
Where does it take place?
The show will come to you from the 3 Arena on the banks of the River Liffey in the heart of Dublin. The first fight is scheduled for 4.45pm local time. The address, should you need it, is The 3Arena, N Wall Quay, North Dock, Dublin 1.
Where can I watch it?
This is where it gets a little complicated. The initial fights will be broadcast live and free via the Bellator app. The Bellator Dublin portion of the card (headlined by Gallagher vs. Salazar) will be screened on Virgin Media 2 in Ireland and Channel 5 in the UK from 10pm.
The Bellator 227 portion of the card (headlined by Henderson vs. Jury) will be screened at 2am on Sky Sports in Ireland and the UK, as well as on Paramount and DAZN in the United States form 9pm ET.
Or you can come to the arena, of course.
And who exactly is fighting?
Bellator Dublin: Channel 5 and Virgin Media Television live broadcast 10 p.m. BST
Bantamweight Main Event: James Gallagher (9-1) vs. Roman Salazar
Welterweight Co-Main Event: Michael "Venom" Page (14-1) vs. Richard Kiely (3-1)
Lightweight Bout: Ryan Scope (11-2) vs. Peter Queally (11-5-1)
Bellator 227: Sky Sports broadcast (2 a.m. BST) and Paramount Network broadcast (9 p.m. ET)
Lightweight Main Event: Benson Henderson (27-8) vs. Myles Jury (17-4)
Catchweight 165lbs Bout: Kiefer Crosbie (6-1) vs. Hugo Pereira (4-2)
Middleweight Bout: Norbert Novenyi Jr. (3-0) vs. Will Fleury (6-1)
Women's Featherweight Bout: Leah McCourt (2-1) vs. Kerry Hughes (3-4)
Bantamweight Bout: Frans Mlambo (7-4) vs. Dominique Wooding (6-2)
Women's Strawweight Bout: Camila Rivarola (2-1-1) vs. Danni Neilan (Pro Debut)
Featherweight Bout: George Courtney (1-0) vs. Ciaran Clarke (Pro Debut)
Featherweight Bout: Richie Smullen (4-1-1) vs. Sean Tobin (6-3)
Lightweight Bout: Ryan Roddy (7-1-1) vs. Patrik Pietila (11- 7)
Featherweight Bout: Ilias Bulaid (Pro Debut) vs. Vitalic Maiboroda (Pro Debut)
Light Heavyweight Bout: Lee Chadwick (25-14-1) vs. Karl Moore (8-2)
Welterweight Bout: Philip Mulpeter (9-6) vs. Keith McCabe (3-4-1)
Flyweight Bout: Blaine O Driscoll (7-2) vs. Jake Hadley (4-0)
Featherweight Bout: Dylan Logan (3-3) vs. Adam Gustab (4-4)
Welterweight Bout: Ian Coughlan (1-0) vs. Constantin Gnusariev (2-0-1)
Comments
comments