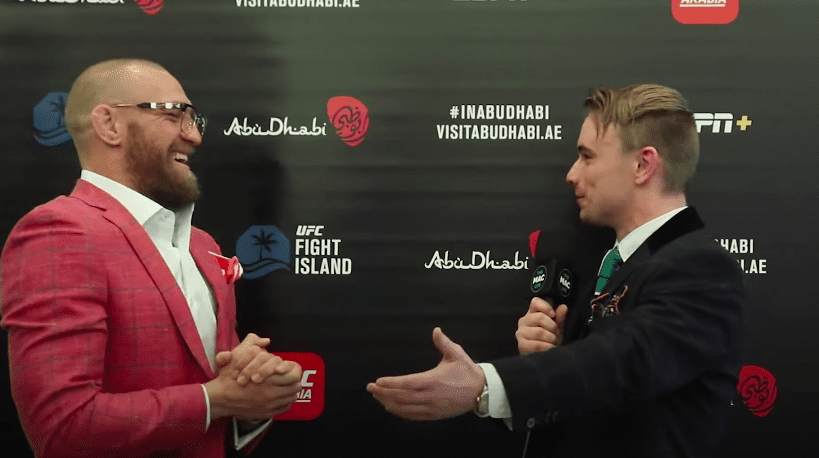 There are several narratives heading into this weekend's UFC 257 headliner between Conor McGregor and Dustin Poirier.
Six years ago, the first meeting between McGregor and Poirier came at very different stages of their careers. McGregor had set a course towards the featherweight world title which would take him through Poirier, the fighter who at the time boasted the most wins in the history of the UFC's 145-pound frame.
Poirier's motivation, he has said, was not just to win but to make a statement of his own by doing so. In the end, 'Mystic Mac' delivered on his pre-fight prophecy of a first-round finish and sent Poirier plummeting to the canvas less than two minutes into the fight.
This time around, McGregor has gone on record as saying that he predicts that he will get Poirier out of there within 60 seconds — but speaking to Oscar Willis of TheMacLife in Abu Dhabi early Wednesday, McGregor says he doesn't particularly mind which direction the fight goes.
"I don't foresee him being able to withstand the power or taking the shots," McGregor said. "It's no slight on Dustin, it's just confidence in my preparation. However, I do want rounds in here so if we can get past that mark I will be celebrating for sure. I'm eager to go. Also, they've been saying about conditioning issues and these types of things. That's a slight on my name and part of me wants to bust him up and take a back step and get into the later rounds, so that's what I see possibly happening also.
"I would love to get some rounds in here on Sunday morning, for sure. It doesn't usually work out that way, and especially where I'm at now. So we'll see what happens."
McGregor's boxing is held as among the finest in mixed martial arts history, but another for his former opponents to have impressed recently was Max Holloway in his shellacking of Calvin Kattar which kicked off the UFC's trio of events on 'Fight Island' last Saturday. It was a fight in which Holloway boasted of his boxing and while McGregor says that Holloway's performance was impressive, he says there is only one candidate for the UFC's best boxer.
"I thought it was a solid performance," McGregor said of Holloway. "He fought an up and comer and he done well. I was actually doing an interview there and he skateboarded by the window, so he's obviously hanging around. Yeah, fair play to him. More power to him. He's definitely in the pipeline for a bout against me, for sure. I would happily rematch Max and after a performance like that, he's put himself right up there.
"He's only fought at 155 once. He fought against Dustin and he was out-powered but he could certainly do it, and against other lightweights you never know but me and him, the rematch would be 155 for sure.
McGregor's own boxing has been a central point of his training in recent years. Prior to last year's Donald Cerrone fight, he reconnected with his childhood trainers in the famous Crumlin Boxing Club and McGregor says that he sees the hard work paying significant dividends.
"I'm certainly more stable and connected to the floor and then I can flash it up," McGregor said of his improvements. "I can go through all styles, I can paint many pictures inside that Octagon. It's just another wrinkle in my beautiful suit so I look forward to getting in and showcasing all my skills. Boxing is certainly prevalent but I'm flying through the air also. I'm ready for it all.
"[Max] is not the best boxer and I'll prove that on Sunday. Watch, I'll end up kicking bleedin' Dustin in the head like the last one. I had the boxing crew with me and I end up kicking Donald in the head and breaking his face with my shoulders. I have so many shots and it will just come out magically on the night, so we'll see what happens."

Comments
comments