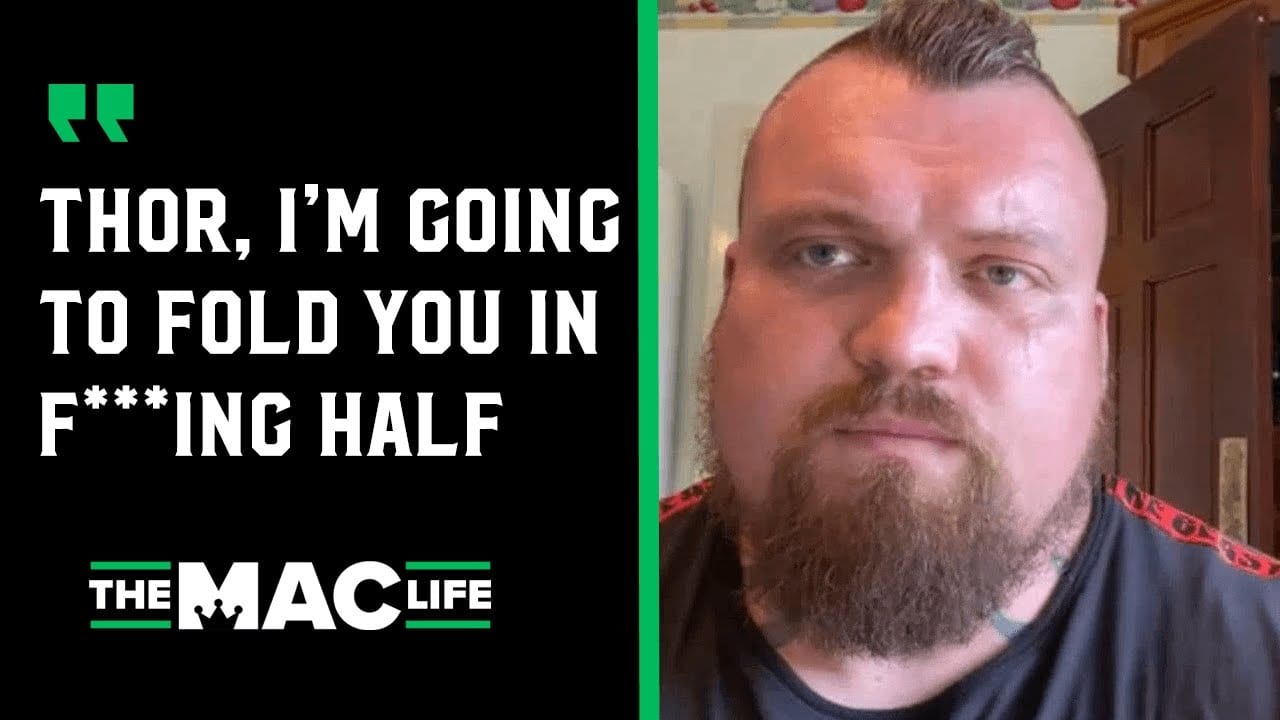 There will be more than 800-pounds of flesh and muscle in the ring when strongmen rivals Eddie Hall and Hafthor Bjornsson square off next year in what will be one of the 'biggest' boxing matches in history and as Hall explained exclusively to The Mac Life, it is the most appropriate venue to settle the score in their all-encompassing rivalry.
"Me and Hafthor have been big-time competitors for a long time," Hall said exclusively to The Mac Life. "We been competing since, I'm going to say, 2011. We've got a hell of a history competing against one another. He's won one, I've won one etc."
That professional rivalry has developed into a personal one, borne out of competition on the strongman circuit — and will lead to showdown in the boxing ring next September, something Hall says was inevitable given their animosity towards one another.
"We absolutely f**cking despise each other beyond belief. If he was on fire I wouldn't p*ss on him, put it that way," Hall says. "There's been constant back-and-forth between me and Thor, and then he did the world record deadlift that I just don't agree with. They way he broke the record I don't agree with. I've been very vocal about that and he hasn't liked it.
"The hatred is 100% real. Honestly, the way I'm feeling right now if I saw Thor face-to-face it would take a lot for me not to punch him in the face. So when the boxing match opportunity came around it was a no-brainer. I get to settle a score with somebody that needs settling after so many years, and I get to make a few quid out of it. It's a win-win for me, really."
While not exactly well-versed in the boxing ring, Hall says that his experiences in how to prepare his body for competition will hold him in good stead, and that he will be able to harness his strongman competitiveness and adapt it for an entirely different type of challenge.
Bjornsson, of course, is also famous for his starring role in the hit HBO series 'Game of Thrones' but Hall remains confident of scaling this particular mountain.
"Training for World's Strongest Man is something that you've got to be absolutely obsessed with. You eat, sleep and breathe strongman. It's all about getting as big and strong and powerful as you can be. Eating as much as you can, lifting as much as you can, sleeping as much as you can.
"It all revolves around being bigger, whereas with the fighting it revolves around being fit, athletic, powerful and agility. I know I'm going to win because I'm that kind of guy. I know that I'm going to give it my all, and if I'm confident then you're f**ked. Like I was confident at World's Strongest Man 2017 – I had already spent the prize money, God's honest truth.
"That's my mindset for this fight. I'm going to leave no stone unturned. Like I said, if Eddie Hall is confident he's going to beat you, you better turn the other way and f**k off because I'm going to f**king beat you. He can come in all guns blazing. He can think of the advantage the height and reach is going to give him that little edge on me. It's isn't. Thor, this is my message to you: you are f**ked. I'm going to fold you in f**king half."
Comments
comments