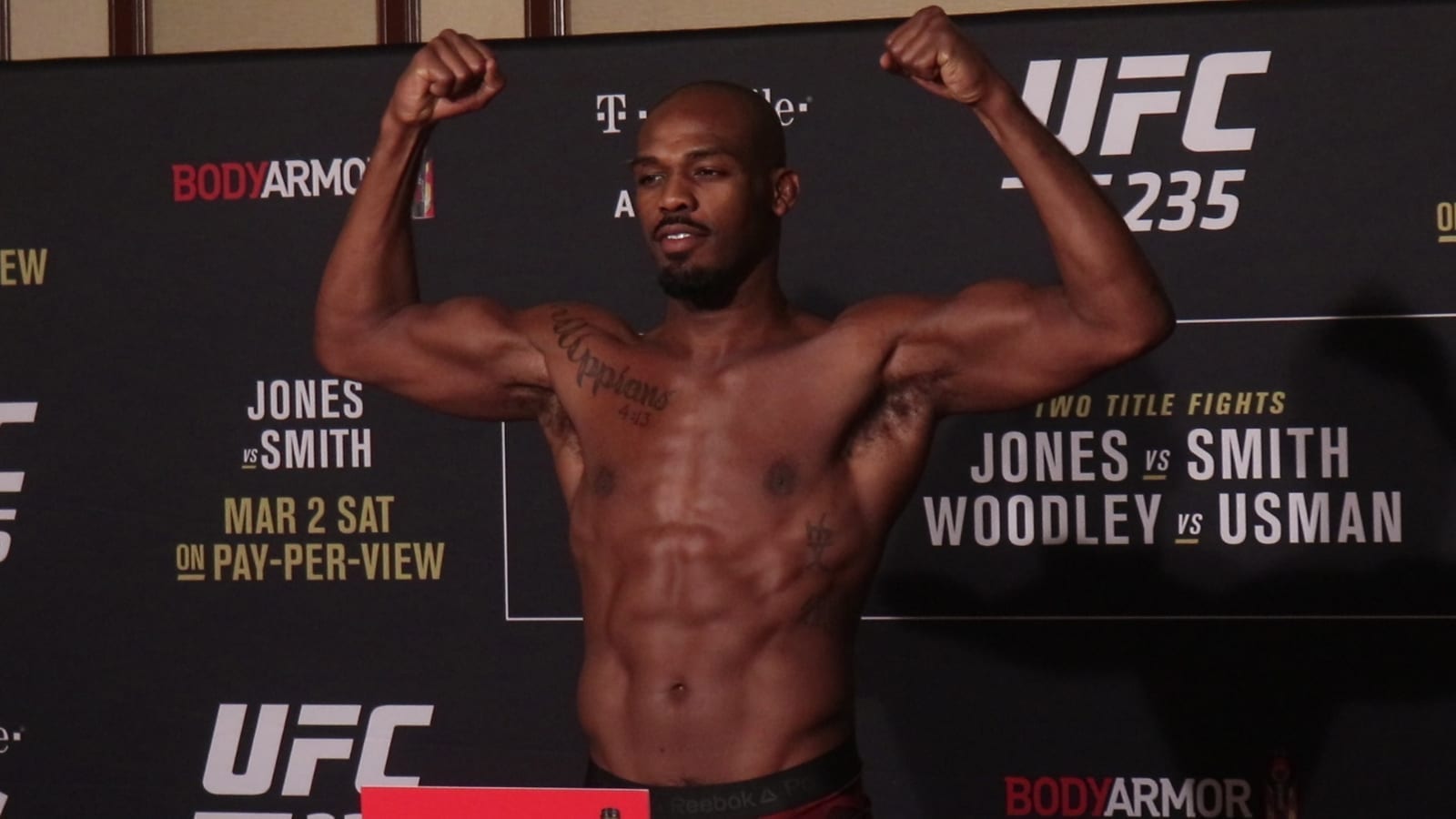 Despite a UFC career which has spanned over a decade, no blueprint exists to defeat Jon Jones.
Opponent after opponent, all with their own unique styles and desire to be the man to finally beat the UFC's most historically dominant fighter, have come and gone — some of them twice. On Saturday, it is the turn of undefeated former collegiate football star Dominick Reyes to step into the cage and attempt to seize the UFC's 205-pound championship.
In Jones, Reyes faces an almost unsolvable puzzle. Jones has faced two undefeated fighters in his UFC career to date, Ryan Bader and Daniel Cormier, and both men would have had a similar level of confidence entering the fight. Anticipating a fight and living it are two different things, however.
View this post on Instagram

It's nearly time. @jonnybones and @domreyes24 come face to face in Houston.
For Reyes to be successful, he would be wise to not abandon the elements that got him here in the first place. A supremely talented athlete, Reyes is adept at setting a pace and then, when the momentum goes his way, unleashes wildly varied attacks which can overwhelm an opponent. He doesn't go back to the well too often either, continually mixed kicks in with punches and varying the angle of attack.
This is all well and good, so long as you can actually get in range to implement this strategy. Jones is incredibly adept at setting the rules of engagement in a fight. He will usually control distance thanks to his freakishly-long frame which he also bolsters by using frames to keep opponents at bay.
In terms of Fight IQ, Jon Jones is also at the top of the class. Rarely do you see him in any disadvantageous exchanges in a fight and if you do you can be sure that he will circle away, reset and await a more agreeable opportunity. Whether Reyes athleticism and aggression can temper Jones' instincts in the cage will be the story of the fight.
Who is favourite to win?
According to oddsmaker Parimatch, Jones is unsurprisingly favoured to come out on top in the UFC 247 main event.
Jones:  1.21 or 21/100
Reyes:  5.60 or 23/5
How will the finish come?
Jones announced to Ariel Helwani in their recent sit-down interview that he would like to finish more fights but when your successful decision rate is 100%, it can be tempting to not force any issue in high-stakes competition.
For his part Reyes has earned seven of his twelve wins by knockout and has gone to a decision just three times, winning all of them.
Jones by KO/TKO/DQ:  3.20 or 11/5
Jones by submission:  3.80 or 14/5
Jones by decision:  3.05 or 41/20
Reyes by KO/TKO/DQ:  7.50 or 13/2
Reyes by submission:  25.0 or 24/1
Reyes by decision:  14.0 or 13/1
Our best bet
Reyes is a live underdog in this fight for a number of reasons. In this writer's opinion, he represents a stern challenged, bolstered by his own unbeaten record and the confidence that goes with it. 13/1 is an attractive price for a Reyes decision win but one can't look too far past Jones extending his undefeated run with a decision win of his own after five rounds of fighting.
************
Bet on King at PARIMATCH.COM
Register and get your EPIC bonus now
*Please note: The odds presented in this article are subject to change and are presented in both decimal and fractional format. 
Comments
comments